Scots recycling firm fined record £200,000 for illegal storing waste
The fine given to Doonin Plant Ltd is the largest ever given to a Scottish company for pollution.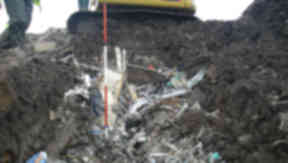 A recycling firm branded Scotland's worst polluter has been fined a record £200,000 for storing waste without a licence.
Cambuslang-based Doonin Plant Ltd was convicted of two charges of keeping hundreds of tonnes of waste in a manner likely to cause pollution.
Company director Gary Doonin, 47, who was found guilty by a jury of two similar charges had sentence deferred for a year.
At Livingston Sheriff Court on Thursday, he was warned if he caused any further pollution he will be sent to prison.
The fine is the largest ever imposed in Scotland for a breach of environmental regulations.
Outside court, Doonin claimed he was a victim of "persecution" by officials of the Scottish Environment Protection Agency. He said he intended to appeal against the convictions and the fine imposed on his company.
He insisted: "I've done nothing wrong. There's nobody dead and nobody lost any limbs. My record is impeccable.
"At that time I had 10 waste management licence exemptions which allowed me to store up to 100,000 tonnes of waste at any one time."
The court was told the family firm would soon cease trading but still had enough assets to pay a fine. The decision to stop trading meant that 27 people had been made redundant at a cost to the company of nearly £200,000.
John Hamilton QC, for Doonin Plant, said it was wrong of the Crown to describe the company as the worst polluter in Scotland.
He said: "SEPA publishes a list of its worst polluters every year and Doonin Plant has never been on that list. This is a company which obviously has spent time considering its position with regard to responsibility for the environment.
"There was no gas and no evidence of any watercourses being polluted. It's important for the court to consider that the likelihood of pollution was there but it didn't manifest itself."
He said all waste had now been cleared from the former coal bing at Woodend Colliery near Armadale, West Lothian. The company was being wound up because it had no further wish to be involved in this area of work.
Stephen Semple, defending Doonin, said his client accepted his guilt but still maintained he had abided by environmental legislation. He produced testimonials praising the accused's community and charity work in Blantyre and said he was of good character with no previous convictions.
Passing sentence, Sheriff Douglas Kinloch said the company had been found guilty of a large-scale operation which involved a "serious and significant breach" of the legislation which posed a real danger to the environment and public health.
He said the fact the firm had been fined for a similar offence only a few months before the 2010 incident and had previous convictions showed a "blatant disregard" for the law.
He said: "The appropriate penalty is a fine. Any fine must be enough to bring the message home - not only to those who manage the company but also to others - that statutory provisions designed to protect the environment must be taken seriously."
He said the company had a strong balance sheet with £50,000 in cash, assets of £260,000 and investment property worth £560,000.
He said: "There are in my view fairly substantial assets from which a fine can be paid although some time will be needed for those assets to be realised."
Turning to Doonin, the sheriff told him as a director of the company since 1988 he must surely have been aware of the prior activities of the company which resulted in previous prosecutions.
He said: "Despite your lack of convictions, it's difficult to regard you as a man with an unblemished character in relation to environmental legislation.
"I've considered whether this case might be dealt with, having regard to you, by a sentence of imprisonment. I'm taking into account character references which show voluntary and charitable involvement by you in the community.
"I'll defer sentence for one year to see whether any further offences of this nature are committed by you or by any company of which you are a director. If there are other offences you may find it difficult to avoid a custodial sentence or disqualification as a director."
He allowed the company three months to realise assets to pay the £200,000 fine.
Ian Buchanan from SEPA said: "Justice has been done for Scotland's environment. The sentence delivered is a positive result for the public, who care about the environment, and legitimate waste operators who have been undermined by the actions of Mr Doonin and Doonin Plant Limited.
"By carrying out such activities, the company and its director demonstrated a complete lack of consideration for the environment and we hope the sentence acts as a deterrent to any operators considering breaking the law.
"The conviction of Mr Doonin himself should also act as a warning to company directors that SEPA will consider offences committed by individuals when investigating environmental crimes."