Housing survey reveals 74% of council homes in state of disrepair
Most properties in Scotland have some form of disrepair including to the roof, walls or foundations.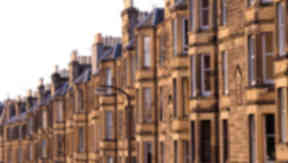 Three-quarters of council tenant homes are in a state of critical disrepair, according to an official housing survey.
Some 74% of properties occupied by council tenants have some form of disrepair to critical elements of the house such as the roof, walls or foundations, the Scottish Government's Scottish House Condition Survey found.
The same applies to 70% of private rented homes, 59% of owner-occupied homes and 56% of homes rented from housing associations or co-ops.
In a third, 33%, of council tenant homes and 37% of private-rented homes, the disrepair is "extensive". Around 5000 council houses are below tolerable living standards, a proportion of around 1.5%.
Nearly three times as many private rented homes, 14,000, are below tolerable standards, representing around one in every 20.
This compares with 3.5% of owner-occupied homes and 0.6% of housing association homes.
The survey shows that 83% of all houses are in some degree of disrepair, ranging from a leaking tap to a missing roof.
Disrepair is less prevalent in newer homes, although 57% of post-1982 houses still need work done, in contrast to 92% of pre-1919 properties.
Of private sector housing, 81% is in some form of disrepair, compared with 87% in the social sector.
Levels of any disrepair have remained stable over the last ten years.
Last year around 58% of homes failed the Scottish Housing Quality Standard (SHQS) which sets a minimum standard for housing. This was largely through failures in energy efficiency, although there has been a downward trend in the SHQS failure rate, with a ten per cent drop since 2007.
Insulation levels and energy-efficiency ratings have improved, with the number of homes with no loft insulation falling to 32,000, although this represents just two per cent of all dwellings which can have loft insulation.
The proportion of lofts with at least 200mm of insulation has grown to 45%, 812,000, compared with 36% last year, meaning an additional 180,000 lofts.