Royal Mail workers in busiest week of the year ahead of Christmas
Mail centres in Glasgow and Edinburgh recruited extra staff for festive period.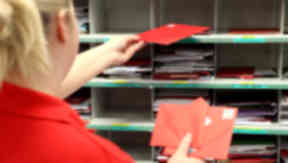 The Royal Mail has begun its busiest week of the year in the run up to Christmas.
Millions of items were sorted by staff at the Glasgow Mail Centre in Springburn on Monday, with machines processing 40,000 items an hour.
Operations have been boosted from December 3 until Christmas Eve with services running 24 hours a day, seven days a week with the help of the extra workers.
Centre manager Mike Hewitt said: "We would expect four to five times the normal amount of mail we get on a normal day. It is a big task and we have 600 additional recruits at this time of year who join us in order to help us get through the volume.
"Machines process 40,000 items an hour, 24 hours a day, seven days a week ensuring we get everything through for Christmas.
"It's a very important time for the Royal Mail and we want to ensure that everyone's Christmas cards and Christmas presents get through to their recipients in time, and we take great pride in managing to achieve that on an annual basis. This is our biggest night of the year and our biggest challenge, and we are well set for it."
Mr Hewitt said the last posting date for second-class mail is Tuesday and Wednesday for first-class mail to reach its destination before Christmas.
Special deliveries can be made up until Saturday December 22, to be delivered on Christmas Eve.
Extra staff have also been recruited at another Royal Mail site in Scotland, at Cultins Road in Edinburgh.