Scottish league tables reveal top ten performing schools
Education Scotland publishes updated figures for key performance indicators across all of Scotland's schools.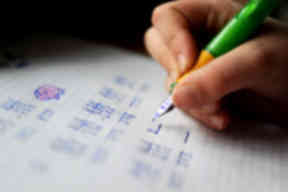 Scottish pupils are achieving better exam results than ever before, according to figures published by Education Scotland on Tuesday.
Among the findings were an overall increase in the number of pupils getting five Standard Grades – up to 80% - and the number of fifth-year pupils passing five Highers rising to 13%.
Meanwhile, Higher pass rates have risen from 72.9% in 2006 to 78.9% in 2012.
Alongside exam results in fourth, fifth and sixth years, the tables show the rates at which pupils stay on at their schools past the age of 16 and their destinations after leaving secondary education.
East Renfrewshire Council is celebrating after two of its schools placed at the top of the category related to S5 students who attain five Highers at A - C grade or better.
Headmaster of the top-placed Williamwood High School in Clarkston, John Sinclair, said: "We're not surprised by the results. We've got very able pupils. The levels they've achieved this year are not different from the level of achievements from the last four or five years.
"We've got very able and capable young people who take their studies seriously. That's matched by some equally talented and hard working staff who are not complacent about what they do but who are determined each year to improve on what they've done in the past. It's the combination of those two fundamental things."
Education Scotland cautioned that the results should not be simply viewed as a league table of the country's best schools.
A spokesman said: "A simple listing of schools by a particular attainment level does not represent the diverse nature and quality of education provided by Scotland's schools."
Teaching staff levels, pupil numbers and rates of free meals uptake are also shown in the figures, which are updated at the end of each calendar year. Figures showing the number of absences and attendance rates are compiled every two years, with the next results due in 2013.
A spokesman for the Scottish Government said: "This year we saw Scotland's pupils achieve the best exam results since records began and with the introduction of Curriculum for Excellence we've halted years of decline in Scottish education performance.
"Our young people are leaving school better qualified. Higher pass rates rose from 72.9% in 2006 to 78.9% in 2012, demonstrating the strengths of our broad based education.
"However, we are not complacent and where improvement is required Education Scotland provide specific inspection and support to raise standards."
Wide discrepancies in results were seen both between councils, and between individual schools within council areas.
Scottish Conservative Education spokeswoman Liz Smith MSP said the statistics showed a "worrying trend" between Scotland's best and poorer performing schools.
She said: "The gap seems to be widening across the country, which chimes with warnings from the further education sector and employers that many of our secondary children are not achieving a good standard of literacy.
"There has to be much more focus on spelling, grammar and punctuation at the earliest stages and it's up to the Education Secretary to demonstrate this is being introduced in all our schools as part of Curriculum for Excellence."
The full data is available on the Scottish Schools Online website, which gives parents the chance to see how their child's school is performing compared to others across the country.
FULL BREAKDOWN OF EVERY SCHOOL