Suicide rate among Scots men 73% higher than England and Wales
In total 1533 suicides were committed in Scotland in 2009 and 2010, according to a report.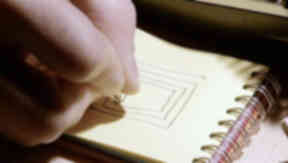 Scots are more likely to commit suicide than those in England and Wales, new figures have revealed.
In total 1533 suicides were committed in Scotland in 2009 and 2010, according to The Scottish Suicide Information Database Report 2012.
The report, published on Tuesday, revealed that the suicide rate among Scottish men is 73% higher than in England and Wales. The Scottish female suicide rate was almost double the rate south of the border.
Almost three-quarters of those who died were male and almost half were aged between 35 and 54. Since 1990 around 75% of all suicides in Scotland have been men.
Compared to other European countries Scots are the third most likely to take their own lives.
The report states: "Scotland's relative ranking deteriorated from having the eighth highest male suicide rate in Western Europe in 1971-1975 to having the third highest in 2001-2005.
"Similarly, for females, the Scotland suicide rate also deteriorated from the eighth highest in 1971-1975 to the fourth highest in 2001-2005."
The report also revealed that those living in Shetland are more than twice as likely to take their own lives as those living in the Western Isles.
Greater Glasgow and Clyde and Highland had the second highest suicide rate by area behind Shetland.
Andrew Sim, Samaritans executive director for Scotland, said: "Although there has been an overall downward trend in suicide rates over the past decade, the statistics are clear – in terms of age, gender and socio-economic status, the group most at risk of suicide are men from disadvantaged backgrounds in their mid-years.
"The excellent work being carried out by the ISD and NHS Health Scotland reinforces Samaritans' call to government, local agencies and the third sector to recognise the heightened risk of suicide among this group."
Your report: If you have information on this or any other story, please let us know. You can send information, pictures to web@stv.tv or call us on 0141 300 3264.
Feedback: We want your feedback on our site. If you've got questions, spotted an inaccuracy or just want to share some ideas about our news service, please email us on web@stv.tv.