School league tables: Breakdown of every Scottish school's performance
STV's breakdown of every school in Scotland ranked by exam performance.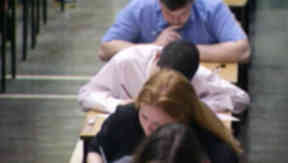 STV is publishing full breakdowns of exam and performance indicators for every secondary school in Scotland.
It is the most comprehensive guide to school performance available - giving figures for absence, as well as the key figures for the number of pupils who achieving at least one, three and five Highers at the benchmark grades of A - C.
Just because a school features at the top of a "league table" doesn't mean that it is the best school. Some opponents argue the tables are misleading because they focus only on one measure such as how much a school helps pupils improve.
Many schools that rank at the "bottom" for exam performance are rated by school inspectors as among the best in Scotland. Poverty is a key indicator of how pupils perform in exams - so our tables also give the figure for the proportion of pupils receiving free school meals.
So our tables allow you to "sort" for performance across the range of indicators. We are publishing full data for all 32 Scottish local authorities and a separate table for schools in the independent sector.
To access the full results for all schools, log on to the Scottish Schools Online website. All figures are in percentages. The figure -9999 indicates not available or not supplied. You can click on the table heading to sort the results lowest to highest or highest to lowest.
FULL BREAKDOWN OF EVERY SCHOOL
TOP TEN SCHOOLS