Glasgow 2014 Commonwealth Games increases security budget by £63m
The Scottish Government announced the security budget would be £90m.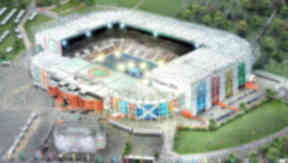 The security budget for the Glasgow 2014 Commonwealth Games has increased by almost £63m amid concerns over the cost plan.
On Tuesday, the Scottish Government announced that the budget for security at the Games will increased to £90m from its current £27.2m.
Earlier this year Audit Scotland warned that the figure was "particularly at risk of cost increases" because of how low it was in comparison with similar events such as the London 2012 Olympics, which had an overall security budget of £1.1bn.
The government said the new budget will be funded by drawing £25.1m from the Commonwealth Games contingency budget, while an additional £37.7m will come it in 2014-15.
Police Scotland Chief Constable Stephen House has been appointed by ministers to take "full responsibility" for the budget to oversee policing and security of the event.
He said: "This is a welcome development that ensures clear lines of accountability and enables a properly integrated approach to planning and delivery. The decision also reflects our shared learning from the 2012 Olympics and will ensure that all partners deliver their commitments fully.
"A new single police service allows us to capitalise on and grow our existing expertise in the management of large scale public events. The new Police Scotland Deputy Chief Constable Steve Allen has a specific responsibility for the delivery of such events, including Glasgow 2014, and will work closely with all those involved to deliver a Games that keeps people safe."
The public contribution to the Games will therefore rise from £424m to £461.7m, alongside £100m commercial revenue that will be raised by Glasgow 2014 organisers through "sponsorship, broadcasting rights, tickets and merchandise sales".
Multiple contracts
Commonwealth Games Minister Shona Robison added: "A detailed security review has taken place, with Strathclyde Police and Glasgow 2014 taking part in a comprehensive observation programme at London 2012.
"There is now a need to secure venues for longer than originally planned to allow for build requirements, while more physical security at sporting venues, such as CCTV, perimeter fencing, and security checking equipment, is required.
"London 2012 highlighted the risk of having a single company providing private security, so the organising committee, in collaboration with the police, has split the private security tender for 2014 into multiple contracts. Adjustments have also been required to meet current UK event security and safety guidelines for stadia, indoor sports venues and on-road events.
"In addition, planning during the bid process assumed the use of volunteers in safety and security roles which was common practice at that time.
"However, London 2012 demonstrated that using volunteers in licensable security roles requires extensive training and is not suitable, so this will be significantly reduced. These improvements have a substantial impact on the budget, but are critical to ensure we deliver an athlete centred, sport focused Games that everyone can enjoys safely."
She continued: "We will not take risks with people's safety — this is the only step to take if we are to deliver a spectacular, safe and secure Commonwealth Games."
The London 2012 Olympics awarded private firm G4S a £250m contract to provide security at the Games. This proved a controversial move when police and army personnel had to be drafted in late on to cover the company's failure to recruit enough workers.
G4S could be among those that submit bids for Glasgow 2014 contracts, after it faced calls from MPs to forgo its £57m management fee for the Olympics fiasco.
Earlier this month, Glasgow 2014 organisers invited bids for its first security contract, a £5m tender for event stewarding at venues in less than two years' time.