Top 100 most popular boys' and girls' baby names in Scotland
The full list of the 100 most popular boys' and girls' names in Scotland have been released.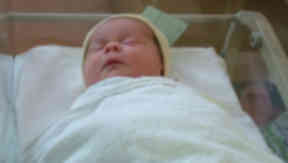 Jack and Sophie have been revealed as the most popular baby names in Scotland for the fifth consecutive year.
Sophie has been on the top spot for eight years now and Jack has spent the last five years in first place.
In 2012, almost 7400 different names were registered across the country.
Lewis, the second most popular boys' name, has been in the top two with Jack for the past 14 years. In that time, Jack has been top with Lewis second for ten years and Lewis has been top with Jack second for the other four.
The only new entry to the top ten boys' names is Riley in third place. After that is James, Logan, Daniel, Ethan, Harry, Alexander and Oliver.
Emily is the second most popular girls' name, climbing four places in the list. After that is Olivia, Ava, Lucy, Isla, Lily, Jessica, Amelia and Mia.
You can read the full list of the top 100 boys' and girls' names in Scotland below.
Top 100 Girls' names
Top 100 Boys' names