Revellers warned to avoid unlicensed taxis over festive period
An MSP has backed a police campaign urging partygoers to use registered taxis to take them home.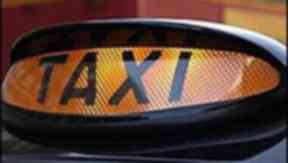 Christmas revellers have been warned not to accept rides from unlicensed taxis over the festive period.
A police campaign urges partygoers, particularly lone women, to only use clearly-marked registered taxis or pre-booked private hires on the way home from a night out.
Lothian and Border Police's Good nights out...get home safely campaign has been backed by an MSP who urged travellers to take extra care over Christmas.
The SNP's Colin Keir, a member of the Scottish Parliament's Justice Committee, said: "This is certainly the season to be jolly but we shouldn't let that extra Christmas spirit mean taking ill-advised decisions about getting home after a night out.
"Women in particular take real risks by getting into vehicles that are not registered taxis to get home – that is why I'm urging them to take extra care this festive period.
"If you're picking up a cab off the street don't put yourself in danger by getting into anything other than a licensed taxi.
"Private hires should always be booked in advance and never picked up off the street. Make sure that your details and destination are known to the company and the driver. If they're not – don't take the risk.
"Getting a safe and secure journey home should be everyone's priority – and if that means paying a little extra or taking a bit more time to organise, then we should all make that effort."
Les McVay, secretary of taxi firm City Cabs said: "We welcome the spotlight being placed by Colin Keir MSP on transport safety at this particularly important time of year.
"Many people rely on licensed taxis to ensure they are protected from harm when travelling home late at night. This is particularly true for vulnerable individuals, such as lone women, at this time of year.
"We urge passengers to be Cabwise and never get into an un-booked minicab. Only use a licensed taxi or a pre-booked minicab - anything else is unvetted, unsafe and illegal."
Lothian and Borders Police have produced a guide to staying safe on a night out, which can be found on their website