Clean-up begins as flooding continues to cause misery across Scotland
Environmental agency Sepa still had 23 flood warnings in place on Monday across much of Scotland.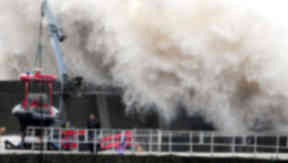 An Aberdeenshire town which saw 100 residents evacuated by flooding is to be visited by the environment minister.
Paul Wheelhouse will travel to Stonehaven on Monday to speak to residents and oversee the clean up operation.
It comes as environmental agency Sepa still has 23 flood warnings across Aberdeenshire, Caithness, Dundee, Tayside and parts of the Borders. A further 12 flood alerts are in place for much of the country.
On Monday, outbreaks of rain are expected to spread across Scotland from lunchtime. While not expected to be as heavy as the last few days, it is may be persistent at times.
Transport links are still being affected by the weather as many people try and get home for Christmas.
A landslide between Aberdeen and Montrose is causing delays and cancellations on services between Aberdeen and both Edinburgh and Glasgow. ScotRail are putting on replacement coaches with all services still scheduled to go ahead.
Ferry services are starting to return to normal with both Caledonian MacBrayne and NorthLink still reporting some delays.
It comes after a weekend of misery for hundreds of people in the east coast, with Stonehaven, Arbroath, Brechin and the Northern Isles particularly hard hit by flooding and high winds.
The Scottish Government has been working Transport Scotland, local authorities, the emergency services, power companies and bodies such as Scottish Water to manage the impact on Scotland's transport network and infrastructure.
Officials have advised people planning journeys home for Christmas to check on how their journeys may be affected through a range of resources, including the Traffic Scotland website and Sepa's Floodline.
Drivers have been warned to be alert to the risk of standing water around the next corner or on minor roads and exercise due caution.
The public has also been advised to wash their hands thoroughly if they come into contact with flood water, with warnings of a low risk to public health from sewage.
For flooding and travel updates, check the websites below.
GALLERY