Gale force winds batter Scotland
As winter sets in, parts of the country have been disrupted by strong winds, heavy rain and snowfall.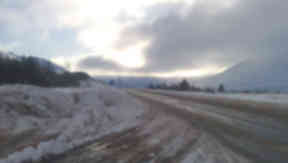 Parts of Scotland were braced for flash flooding as the latest severe bout of weather hit the country.
After early snowfall, heavy rain and high winds struck and there were also flood warnings from the Environment Agency in force. Snow fell across high ground, with the Highlands worst hit.
The A93 Glenshee to Braemar road in Aberdeenshire was also closed due to drifting snow and high winds while motorists on the M74 near Beattock were advised to drive with caution due to snow in the area. It is now passable with care.
Monday saw the AA record a busy day for breakdowns, with more than 13,000 reported throughout the UK. That is 2,000 more than normal for this time of year.
Heavy rain and leaves on the road surface were responsible for the high number of breakdowns, with Glasgow and the A9 trunk road to Inverness worst affected. On the rail network, weather-related delays were reported between on some northern line.
The weather has been caused by a deep low pressure, which will move east across Scotland, through England and towards northern France through Tuesday.
Travelling conditions were poor on Monday and other ferry services were disrupted. Strong winds have continued into Tuesday with the Forth and Tay Road Bridges closed to double decker buses and speed restrictions in place.
In Fife, the A921 Kirkcaldy Esplanade is closed on its seaward side between Port Brae and Nicol Street due to high tides.
Passengers on a ferry were stranded in rough conditions in the North Sea for nearly 18 hours after bad weather stopped the vessel from docking in Aberdeen. The "atrocious" high seas meant that the vessel docked in Fife after more than a day at sea.
More than 87 people were on the NorthLink Ferries vessel MV Hjaltland, which ended up being diverted to Rosyth.
IN DETAIL: