Astronomy professor and 'Glasgow ghostbuster' Archie Roy dies
The 88-year-old was Emeritus Professor of astronomy at Glasgow University.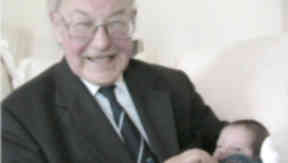 Astronomy professor and writer Archie Roy, known as the 'Glasgow Ghostbuster' for his expertise in explaining physical phenomenon, has died.
Professor Roy, who was born in Clydebank, West Dunbartonshire, was Emeritus Professor and honorary senior research fellow in the department of physics and astronomy at Glasgow University.
The father-of-three had an asteroid, (5806) Archieroy, named after him in recognition of his work in his field. On Thursday, he died at Drumchapel Hospital in the city, aged 88.
He was a member of the European Academy of Arts, Sciences and the Humanities, as well as being a patron of the Churches Fellowship (Scotland) for Psychical and Spiritual Studies.
During his long career at Glasgow, Professor Roy published 20 books, including six novels, as well as scientific papers and scores of articles. In 2004 he was awarded the Myers Memorial Medal for outstanding contributions to psychical research by the Society for Psychical Research.
He was married to Frances with whom he had three sons: Dr. Archie W N Roy, Ian Roy and David Roy.
His son David paid tribute to his father: "My father was a man of the Scottish Enlightenment. Equally proud of his achievements in academia, novel writing and psychical research. In 1964 he placed a bet with William Hill for £10 that a man would land on the moon before 1971. He won £1200."
He added: "Like Sir Issac Newton, his interests in psychical research were to apply scientific methodology to understand the unknown, rather than dismiss it without any knowledge. He was a member and past president of the Society for Psychical Research and founding president of The Scottish Society for Psychical Research. He was regularly asked by the media to comment on psychical phenomenon and was often referred to as the 'Glasgow ghostbuster'.
"Of all his achievements and awards, he still introduced himself simply as 'a teacher' and thought education was the key to a just and equal world. Born into a Clydebank room and kitchen, he epitomised all that a 'free' public education can do.
"He will be greatly missed by his friends, colleagues and family but his work and writing is still with us. His two grandchildren David and Fraser already are interested in being astronomers and writing novels. He has inspired many, influenced multitudes but was my dad and I loved him."