Scots urged to get on their bikes as new Action Plan announced
Transport minister Keith Brown announces £53m of investment in Scotland's cycle network.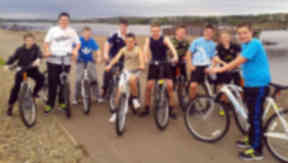 Scots are being urged to get on their bikes more in 2013, as £53m of investment in the country's cycle network was announced.
Transport minister Keith Brown said he was looking forward to using pedal power more in the coming 12 months and called on others to do the same.
To help achieve that he vowed to do everything possible to make cycling an "attractive and viable option for more people".
Mr Brown said 2012 had been a "fantastic year for cycling in Scotland" and Olympic successes including Sir Chris Hoy winning gold in London led to a "huge surge in interest in cycling both for recreation and as a way of getting around".
In his New Year message, he said: "I am looking forward to getting on my bike more and to doing all I can in my role as Transport Minister to make this an attractive and viable option for more people throughout Scotland.
"We are already supporting projects to make the road network more cycle-friendly and in 2013 we'll launch a refreshed Cycling Action Plan. This will include a target to further reduce casualties, new commitments on education, training, improved signage, consideration of cycling in roads design and greater use of 20mph zones."
The Scottish Government has earmarked £53m to improve cycle paths in Scotland and make cycling more accessible.
"All of this will help us build on the Olympics legacy and will also go towards keeping up momentum on increasing cycling activity in Scotland ahead of the Commonwealth Games in Glasgow in 2014," Mr Brown said.
"I want to see 2013 remembered as the year that Scotland really embraced pedal power and I would urge everyone to join me in getting out on their bike."
The minister's comments came after figures revealed the number of cyclists killed or seriously injured in Scotland last year rose by 12%, from 145 to 163.
Campaigners have called for cycling provision in Scotland to receive 5% of the transport budget, rather than the 1% it currently recieves.
John Lauder, director of sustainable transport body Sustrans Scotland, said: "Every death on our roads is unnecessary and tragic, and there is much more that needs to be done to ensure the safety of our most vulnerable road users."