Scots use payday loans and overdrafts to cover rent and mortgages
Research by Shelter Scotland found one in five people can barely afford the roof above their heads.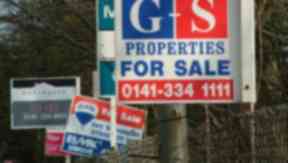 One in five people are struggling with housing costs and 3% have resorted to expensive payday loans to cover their rent or mortgage in the last year.
Research by Shelter Scotland found as many as 725,000 people were having difficulty meeting the cost of keeping a roof over their heads.
It also discovered 9% of Scots had used an unauthorised overdraft to cover their living expenses.
Shelter Scotland has urged anyone struggling with rent or mortgage payments to seek help as soon as possible.
Gordon MacRae, head of communications and policy, said: "It's shocking to think that so many families will be starting the New Year with a huge weight hanging over them, trapped in a daily struggle to keep their home.
"Payday loans may seem like a quick fix but the huge interest charges mean things can quickly spiral out of control.
"It's vital that anyone having difficulty paying their rent or mortgage gets advice now. Don't wait until things reach breaking point later in the year, it could leave your family's home at risk."
The survey found only 38% of people were keeping up with their monthly payments without any difficulty, while three in five struggled to some degree and as many as 4% were falling behind.
Back in November, Shelter Scotland revealed that calls to its helpline from people with housing problems increased by around 40% in the least three years.
Mr MacRae said: "We've already seen a rise in demand for our services and an increase in calls to our helpline as more and more people struggle to keep up with their rent or mortgage.
"Sadly they're discovering there is little left of the housing safety net that was once there to help them get back on their feet."