Son threatened to kill his mother and bury her in back garden
George McLaughlin had been locked out of his 72-year-old mothers home in Uphall, West Lothian.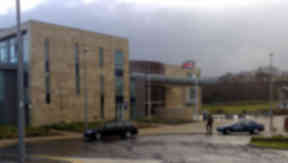 A drunken son threatened to murder his mother and bury her in the garden because she locked him out of the house after a binge.
George McLaughlin banged on the doors of his 72-year-old mother's home and threatened to smash the windows to get in.
McLaughlin, who'd been out drinking from 11am to 6pm on January 2, shouted at the pensioner: "You're a witch and I'm going to hang you from a tree".
On Thursday, Livingston Sheriff Court was told his mother called the police, who found McLaughlin heavily intoxicated outside her home.
Graham Fraser, prosecuting, said: "She was absolutely terrified. Fortunately police were able to come very quickly.
"He was very aggressive towards them. He said: 'Who the f*** phoned you? It better not be her."
Mr Fraser said the officers tried to calm McLaughlin down but he continued to make threats.
He said: "He told them: 'I'll fing kill her. I'll fing bury her in the garden. When I get out tomorrow I'm going to go crazy. No f***ing door will stop me.'
"I think it's fair to say she was traumatised by her son's dreadful behaviour."
Mr Fraser said McLaughlin had recently returned to Scotland after living in England for a number of years, and his mother had taken him in.
However, his drinking had been causing problems and, on the day of the offence, she had warned him if he came back drunk he would not be welcome in her house.
He told the court: "She's been crying herself to sleep while the accused was lying drunk elsewhere in the house. I'm told her other children have refused to come and see her while he is there.
"The accused was unwavering in his intention to return to his mother's address and cause further problems. He's shown absolutely no remorse for his actions. He believes he has the right to behave selfishly in the way he has with scant regard for the feelings of anyone else in his life."
McLaughlin, 45, appeared from custody and pleaded guilty to a breach of the peace at his mother's house in Uphall, West Lothian, on January 2. He admitted causing her fear and alarm by threatening violence towards her and threatening to damage garden ornaments.
Darryl Lovie, defending, said there was no prospect of McLaughlin going back to stay with his mother and he had no alternative bail address.
He added: "When police spoke to him he was still very drunk. In the cold and sober light of day he certainly isn't presenting in that manner."
Sheriff Gerald Warner called for criminal justice social work reports and remanded McLaughlin in custody until January 18.