Fears immigration checks will drive cruise ships away from Scotland
An MSP claims new rules by the UK Government could have a 'detrimental effect' on the industry.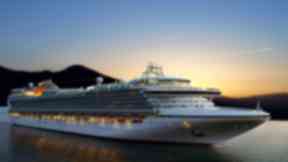 New immigration checks risk having a "detrimental effect" on Scotland's ability to attract cruise ships to its shores, a Nationalist MSP has claimed.
Stuart McMillan has contacted UK immigration minister Mark Harper to raise his concerns about the new rules, which will require all passengers to undergo face-to-face checks if their itinerary includes a British port.
Mr McMillan, convener of the Scottish Parliament's cross-party group on recreational boating and marine tourism, said: "I have heard passengers have faced lengthy delays as a result of this system which is having a detrimental effect on the industry in Scotland," he said.
He raised the issue after being contacted by Richard Alexander, chairman of Cruise Scotland which promotes Scottish ports as a destination for cruise ships.
In a letter to the West of Scotland MSP, Mr Alexander said a number of cruise lines "have already expressed extreme dissatisfaction" over the requirement to have face-to-document checks.
Cruise ships are said to have brought 379,955 people to Scotland's shores last year, up 19% on 2011, and contributed an estimated £41.2m to the Scottish economy.
"At a time when cruise lines are already facing increasing operational costs, this is effectively a new tax on their operations. They have also indicated that this will make the UK uncompetitive and unappealing and act as a deterrent for ships to call at UK ports," Mr Alexander wrote.
Mr McMillan said: "Serious concerns have been raised about the UK Government's immigration checks for cruise ship passengers that cannot be ignored.
"I have written to Mr Harper to ask for clarity on how these rules are affecting Scotland as the voices from the industry say it is hugely negative and must be changed before it is too late.
"We must do everything we reasonably can to promote and sustain this vital industry."