Forklift driver one of 140 'caught drunk at wheel' over Christmas
Another motorist was allegedly six times the legal limit on Boxing Day.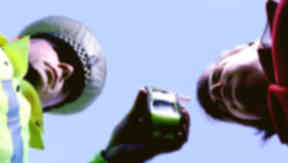 A forklift driver caught behind the wheel while twice the legal limit was among the 140 motorists accused of drink driving offences over the Christmas period.
In the final week of a nationwide campaign aimed at catching those behind the wheel while under the influence, the 20-year-old man was caught driving the truck in Forfar, Angus, on Hogmanay.
According to the Association of Chief Police Officers in Scotland, the man had taken the fork lift as he could not get a taxi home. He later appeared at Forfar Sheriff Court where he was fined £350 and disqualified for 15 months.
Deputy Chief Constable Tom Ewing, the association's lead on road policing, said a total of 143 alleged drink drivers were detected in the final week of the campaign, with a further six accused of being unfit to drive through drugs.
Mr Ewing said: "This year's campaign may be over but that does not mean that police officers will be ignoring the scourge of drink and drug driving.
"Quite the reverse in fact, it will be part of routine night and day to look out for those who are prepared to take the risk. We will track these people down using every means at our disposal and bring them to justice."
The association said Strathclyde Police arrested a 43-year-old man on Boxing Day as part of the crackdown. He was taken to Glasgow's London Road police office where he allegedly gave a specimen of breath almost six times the legal limit.
Justice Secretary Kenny MacAskill added: "We may have moved into a new year, but it's clear some drivers still hold outdated attitudes and think it's okay to drink and drive. Sadly we've already seen hundreds of drivers ignore the risks and put lives in danger in the last few weeks.
"That is absolutely deplorable in this day and age and these people will find out the hard way that their actions will be met with the full force of the law."