Scottish applications for university drop by 3.9% since last year
Admissions body UCAS says the drop-off was less severe than in England and Wales.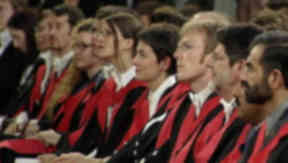 Fewer Scottish students are applying for university next year despite the abolition of tuition fees, according to admissions body UCAS.
The organisation said 14,052 people had applied for courses by December 17, a fall of 3.9% on the same stage last year. The main deadline for applications is January 15.
The drop-off for students in Scotland was less severe than in England and Wales, whose students will be liable for fees of up to £9000 a year after the upper limit was trebled last autumn.
The Scottish Government also suggested that mild weather during the winter may have encouraged schools to delay applications until the last minute.
English applications have fallen by 6.5%, while in Wales the rate has slumped by 11.5%. Northern Ireland was the only part of the UK to see an increase, going up by 0.5%.
A Scottish Government spokesman said: "Last year's overall UCAS figures showed an increase in the number of Scots accepted to study in Scottish universities, demonstrating the benefits of our decision to abolish tuition fees while the UK Government increased them.
"Today's figures suggest that applications from Scotland remain resilient compared to other parts of the UK, although the mid-December snapshot remains early days.
"We also understand that the mild winter has seen less of a push from some schools to get applications in before Christmas."