Woman who killed brother in fire before fleeing country denied bail
Shafquat Saleem wanted to be released to spend time with her family ahead of sentencing later this month.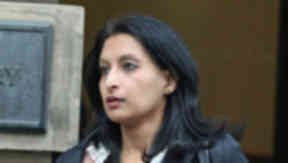 A former postmistress who killed her brother in a fire has failed in a bid to be released on bail to spend time with her family ahead of sentencing.
Shafquat Saleem, 39, wanted to be released before she is dealt with for the offence later this month but judge Lord Stewart refused her application at the High Court in Edinburgh.
The judge said it would be very unusual case to grant bail in the circumstances, especially as she had previously left the country for a decade.
Saleem was originally charged with murdering her brother Imran, 18, after setting fire to the family flat at Barn Park in the Wester Hailes area of Edinburgh on June 14, 2001.
She was convicted of the reduced charge of culpable homicide after a trial last month.
She was also found guilty of embezzling £34,000 from a post office in Raeburn Place in September 2001 and attempting to defeat the ends of justice by leaving the UK in the same month.
She was detained in 2011 after returning to Britain. She had spent time in Northern Cyprus.
Petrol or another accelerant had been poured through a letterbox and set alight at the flat.
Saleem's solicitor advocate Jim Stephenson told Lord Stewart although no bail application was made at the end of her trial she had subsequently asked for an application to be made.
He said she had previously been on bail with a condition she surrender her passport and report to a police station. He said her sisters and mother have visited her at prison since she was remanded in custody and are supporting her.
He said: "She is keen to be with her family at this time pending sentencing in relation to this matter."
Saleem is due to be sentenced at the High Court in Aberdeen on January 23.