Majority of Scots 'want more drink driving powers for government'
The Scottish Government released a findings of its new poll on Friday.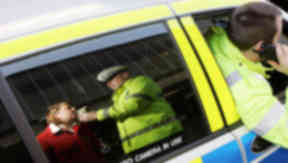 The majority of Scots would back an extension to the Scottish Government's powers to tackle drink driving, according to a new poll.
On Friday, the Scottish Government claimed its survey showed 75% would support it having additional powers to target those who get behind the wheel while under the influence.
Previously, the Scottish Government has called for a transfer of further legislative powers from the UK Government regarding the policing of drink driving.
The YouGov poll was conducted online between December 14 and 17 when 1073 Scottish adults were asked "Thinking about ways in which drink driving could be reduced… Would you support or oppose the Scottish Government having additional legal powers to reduce drink driving?"
According to the government, 75% of respondents backed it being given additional legal powers, 13% neither support or oppose such proposals, 8% were against it and 4% did not know.
Justice Secretary Kenny MacAskill said: "We may have moved into a new year, but it's clear some drivers still hold outdated attitudes and think it's okay to drink and drive. Sadly we've already seen hundreds of drivers ignore the risks and put lives in danger in the last few weeks.
"That is absolutely deplorable in this day and age and these people are finding out the hard way that their actions will be met with the full force of the law. The Scottish public have clearly also had enough of them. It is encouraging to see so many people speaking out, and we agree with them."
He added: "Sadly, the UK Government ignored our pleas to transfer the additional powers necessary to give our police forces the tools they need to crack down on drink drivers, such as carrying out breath testing anytime, anywhere. The Scottish public have spoken and they have sent out a clear message to the UK Government that Scotland should be given the additional powers we need."