Couple scoop £1m on EuroMillions a year after losing their home
Barry and Roberta Little, from Dumfries, played a special New Year's day Millionaire Raffle.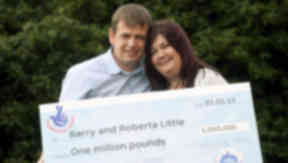 A Scottish couple have scooped £1m in the EuroMillions almost a year after they lost their home.
Barry and Roberta Little played a special draw on New Year's day which made 23 people in the UK millionaires.
Mr Little, 33, had to take early retirement from his job as a carer in 2010 after injuring his back at work. Once unemployed, the couple struggled to meet their mortgage repayments and had to sell their home back to Dumfries and Galloway council in May last year.
Since then, the couple have relied on Mrs Little, 32, to provide for their three children, Malachi, six, Reegan, 12 and Nicole, 14.
Mr Little checked his numbers in the early hours of January 2 and went to wake up his wife when he realised they had won.
He said: "I had stayed up late on New Year's night to watch TV. It wasn't until 2am on the 2 January that I remembered I had bought a Lucky Dip online, so I checked my numbers.
"I noticed straight away from the list of raffle codes that mine was there. Like most people I am sure, I thought this can't be right. This kind of thing doesn't happen to me, so I woke my wife to get her to check them for me.
"Once Roberta confirmed we'd won, we spent the next six hours going over and over the code to make sure we weren't mistaken. We wanted to let the children sleep, so we waited until 7am to tell them the news. As soon as the clock hit 8am we called Camelot to verify our ticket.
"This could not have come at a better time for me and my family. We've had such a tough year and this win has really lifted our spirits."
The couple plan to buy a new television and take the family on holiday with their win.
Mr Little said: "I'm going to buy a 3D television so that I can see the text on Sky. I am bedbound quite a lot of the time and the TV we have at the moment is quite small and it's difficult for me to read the updates on Sky Sports.
"The next thing I want to do is to take my wife and kids on a holiday to get our heads around what's happened to us. We've not been on a family holiday in years so they're due a nice break. I haven't a clue where we'll be going, but it will definitely be somewhere warm."