Third of hospital beds in private rooms reveals health secretary
Twenty-six hospitals in Scotland have no wards, with all patients cared for in their own room.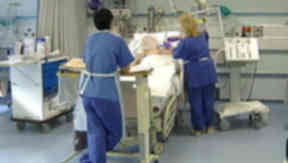 A third of all hospital beds are in single rooms, the Health Secretary has disclosed.
Twenty-six hospitals in Scotland have no wards, with all patients cared for in their own room.
Looking after patients in this way can help prevent infections from spreading, as well as giving patients greater dignity.
The minister, Alex Neil, confirmed a government commitment to having only single rooms in all new hospitals as he announced that 12% of hospitals provide individual rooms for all patients.
One in three beds (32%) in 218 hospitals are in single rooms, with only 10 hospitals not providing any.
The then health secretary Nicola Sturgeon announced in 2008 that single rooms would become the norm for new and refurbished hospitals.
Mr Neil said: "There is strong evidence of the effectiveness of single rooms in minimising risks of healthcare-associated infections and in protecting dignity for patients, and that is why in Scotland we are moving to greatly increase the number of single rooms.
"These figures show that we already have 26 hospitals with 100% single rooms which is a great step forward for both infection control and patient dignity, and I would like to further reinforce my commitment to 100% single rooms for all new hospitals.
"In 2008 the previous health secretary announced that she accepted the recommendation of the Scottish Government's steering group on single-room provision which means all new hospitals in Scotland are now 100% single rooms and in refurbished hospitals, at least 50% of the beds are in single rooms.
"Single rooms provide a better and safer environment for patients and will enhance their experience during their stay in hospital. More importantly, single rooms make a significant contribution towards reducing the patient's risk of contracting and passing on an avoidable infection."
The Royal Victoria Building, part of Western General Hospital in Edinburgh, and Migdale Hospital in Bonar Bridge in the Highlands are among those built in the last few years without any wards.
Meanwhile the £842m South Glasgow Hospitals Campus will have 100% single rooms for adult patients when completed in 2015, with more than 80% of beds in the children's hospitals in single rooms.
Other hospitals where all patients are in individual rooms include the Golden Jubilee in Clydebank and the State Hospital in Carstairs where people who have committed a crime but are mentally unfit to go to prison are treated.