Languages drive is crucial for Scotland's future, MSPs told
The Scottish Government has set aside £4m for a pilot project.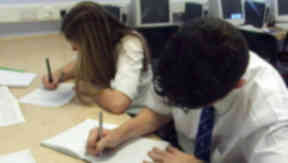 Children as young as nine will be taught three languages amid rising immigration, tourism and increasing demand for workers that speak more than just English, MSPs have heard.
The Scottish Government has set aside £4m for a pilot project to ensure Scotland's economy does not suffer as a result of its citizens' relatively poor language skills.
Government advisors warned Holyrood's European and External Affairs Committee that the "myth that all the world speaks English and you don't need an additional language" could cost the Scottish economy £500m.
Scottish workers are increasingly in competition for jobs with highly-valued immigrants who can speak multiple languages, MSPs heard.
The Government's "two plus one" initiative aims to teach two languages in primary school on top of a child's native tongues.
European languages, the languages of growing economies such as China and Brazil, "community languages" - such as Polish, Punjabi, Urdu and Arabic - and native languages such as Gaelic have all been singled out for teaching.
Polish is the second most prevalent language in 22 out 32 Scottish local authorities, the committee heard.
Committee members visited a school in Dalmarnock, in the east end of Glasgow, that teaches children who speak 12 different languages.
The committee also heard that some Glasgow taxi drivers are learning the basics of many languages to assist their customers.
Simon Macaulay, chair of the Scottish Government Languages Working Group, said: "There has been a decline in the number of pupils gaining certification in all languages except Spanish.
"There will be something like a £500m loss to the Scottish economy if we are unable to engage with foreign business, and there are issues of employability of Scots in the future if they are unable to speak another language other than English."
He added: "There is a concern that Scotland will be left behind.
"We want to nail the myth that all the world speaks English and you don't need to speak an additional language. The reality is that 75% of the world's population doesn't speak English."
The group has recommended teaching the first additional language in P1 and the second in P5, and also called for primary teachers to have a language qualification to at least higher level.
Tim Simons, head of the Scottish Government's Curriculum Unit, said the Government has accepted all of the working group's recommendations and will begin implementing them in schools in consultation with others.
"The awareness of young people about the world around them is much greater than it was in the past," he said.
"They see news reports on television with people speaking other languages and also exposure to other languages through young people who come here, who are living here and are foreign nationals.
"We have evidence from local authorities about their main three languages after English spoken in schools, and in 22 out 32 local authorities the top language after English is Polish."
Scottish Government Languages Team senior policy officer John Bissett said: "I think we need to draw on the increasing weight of evidence that languages is something that will be of huge benefit to our young people, not just as individuals in terms of their confidence to engage with the world around them, but in terms of their future economic prospects as well.
"There are regular surveys now that suggest that in the nature of the globalised economy, increasingly companies are looking for youngsters who can offer more than just one language.
"Young people are increasingly in competition with young people from Europe, for example, who can offer two or three other languages."