STV awarded local television licences for Glasgow and Edinburgh
Scotland's digital media company will operate the two new services in partnership with universities.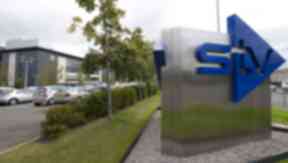 STV has won the new local TV licences for both Edinburgh and Glasgow.
They are first of the new generation of local broadcasting services to be awarded in Scotland by media regulator Ofcom.
The separate licences for Glasgow and Edinburgh will see new services for the two cities broadcast free on terrestrial television.
STV, which holds the Channel 3 licence for North and Central Scotland, will run the services in partnership with universities, providing peak time content including local news and current affairs programming as well as magazine shows.
Bobby Hain, STV Director of Channels, said: "STV is delighted to have been awarded the Local TV licences for Glasgow and Edinburgh. The two services, GTV and ETV, will be delivered in partnership with Glasgow Caledonian University and Edinburgh Napier University.
"GTV and ETV will provide an innovative television service to the communities they serve complementing STV's existing broadcast, online and mobile services. These new ventures will also provide media students with opportunities to work and learn in a live broadcast environment."
Professor Pamela Gillies, Glasgow Caledonian University (GCU) principal and vice-chancellor, said: "I am delighted the bid has been successful. GCU is ideally positioned to engage in this partnership, given the strength of our highly-acclaimed undergraduate and postgraduate multimedia journalism programmes.
"We have always placed great emphasis on employability and the launch of GTV will give our talented and committed students and graduates even more of a head start."
Julian Calvert, media and journalism subject leader at GCU, said: "We have been working closely with STV for a number of years and this is a fantastic extra opportunity for our students to engage with such a high profile broadcaster.
"The STV bid placed a lot of emphasis on enabling local communities to make their voices heard on the city's television in a way which has never happened before, and the type of programming that is being planned further enhances the university's reputation for community engagement and reflects GCU's commitment to the common good."
Professor Dame Joan Stringer, principal and vice chancellor at Edinburgh Napier University, added: "This presents a unique opportunity not only for our students but for the wider community of Edinburgh.
"The university has a track record of producing top journalism and media graduates who benefit from fantastic facilities and industry-experienced staff. I am sure the contribution of our students will be invaluable to the community programming planned for ETV."
Ofcom will award up to 21 local TV licences, including Belfast, Brighton, Bristol, Cardiff, Grimsby, Norwich, Nottingham, Sheffield and Southampton. Although not part of the current bidding process, there are another 44 locations where a local television licence is "technically possible", including Aberdeen, Dundee, Inverness and Ayr.