Jimmy Savile: Scottish sex abuse cases highlighted in report
Strathclyde, Grampian, Lothian and Borders and Fife police received complaints.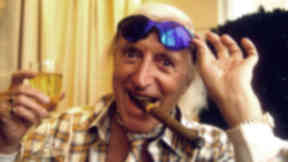 Jimmy Savile committed five sex offences in Scotland, an investigation into the disgraced TV presenter has found.
Strathclyde Police had two allegations recorded against Savile, while the Lothian and Borders, Fife and Grampian forces had also received one each.
In a joint report from the Metropolitan Police and the National Society for the Prevention of Cruelty to Children released on Friday, the full scale of the sexual abuse perpetrated on 450 people by Savile was revealed.
The details of the allegations or the time in which they were committed in Scotland was not revealed in the 'Giving Victims a Voice' report, which revealed that the offending dated from an incident in Manchester in 1955 with the final recorded offence in 2009, when Savile was aged 83.
In the report, Savile is described as "hiding in plain sight" through his TV roles, while the police found his offences were committed at the BBC headquarters in London, at Leeds General Infirmary and Stoke Mandeville Hospital where he worked as a porter and at Duncroft School for vulnerable girls where he was a regular visitor in the 1970s.
Savile's Highland holiday cottage in Glencoe is listed in the report as being "linked" to him, but is not listed as a location for any of the offences reported to police forces across the UK.
The Met report also concluded that Savile committed a sexual offence in 2006 during the last ever recording of Top of the Pops, when he was aged 79.
It said Savile's offending presents "a potential watershed" and concluded he was an "opportunistic individual who used his celebrity status as a powerful tool to coerce and control" his victims.
The report said it would be "naive" to view the case as the isolated behaviour of a "rogue celebrity" - but the "context of the 1960s and 1970s" need to be recognised.
Savile committed 214 crimes across 28 areas the inquiry found, with Leeds and London being the predominant locations for his offending. He abused patients at 13 hospitals and a hospice across England over his decades of abuse, including one incident at Great Ormond Street Hospital in London.
The TV presenter, who died in October 2011 having never been convicted of any of his offending, targeted his youngest victim when they were aged eight, with his oldest being 47 years old. According to the police report, 73% of his victims were under 18 years old with the many of them girls aged between 13 and 16.
On Friday the Crown Prosecution Service also released a report into Savile's decades of sexual abuse, which concluded that he could have been prosecuted in England and Wales.
In Scotland, the Crown Office has not commented on the investigation, while the Association of Chief Police Officers in Scotland is expected to announce its response to the reports later on Friday.
IN DETAIL
Jimmy Savile sex abuse report by Met Police and NSPCC