Call for 'radical changes' to give Scotland control of fisheries
Richard Lochhead demands end to 'years of suffering' ahead of crucial EU fisheries talks.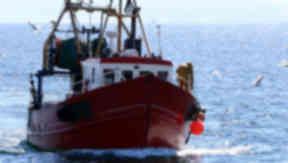 "Radical changes" to EU policies are needed to allow Scotland to take greater control of its fisheries, according to a Government minister.
Fisheries Secretary Richard Lochhead said the EU's Common Fisheries Policy should be reformed to hand more control to local and regional communities.
He said Scotland has suffered years of "painful cuts and baffling rules imposed by the EU", including quota reductions which he blamed on "irresponsible" fishing by Iceland and the Faroe Islands.
He has also called for Scottish seafood to be sold at a premium, similar to Scotch beef and lamb.
Mr Lochhead said: "After years of painful cuts and baffling rules imposed by the EU, some progress was finally achieved last month at the Fisheries Council in Brussels meaning there is a chink of light for Scottish fishing.
"The key is now to keep up the momentum for positive change as we prepare for more crucial decisions in 2013."
He said more can be done to "capture the value of every fish landed on our shores".
"Scottish seafood is delicious and high quality, yet that is not always reflected in the price achieved for our fish and shellfish," he added.
"I believe we can secure a premium for Scottish seafood, much in the same way as is achieved for Scotch beef or Scotch lamb.
"The Scottish Government is committed to working with the industry in 2013 to help achieve that."
Mr Lochhead's immediate priority is to reach a positive outcome in the EU-Norway talks, where he hopes to safeguard Scotland's cod and mackerel quotas.
"The excessive fishing of the mackerel stock by the Faroes and Iceland means a quota cut is expected for that particular fishery," he said.
"However, I will not accept a double whammy for our pelagic sector, and will therefore reject the European Commission's proposals for an even greater quota reduction that would only reward Iceland and Faroes for their irresponsible behaviour.
"Instead, we need the EU to finally confirm the long overdue sanction measures and take decisive action this year if Iceland and the Faroes continue to overfish the stock.
"Looking ahead, 2013 will be a pivotal year for the reform of the EU's ill-fitting Common Fisheries Policy, which has been highly damaging for Scottish fishing communities and the stocks.
"That's why we are pressing for radical changes, including changing the remote control from Brussels, with more management decisions taken at the local and regional level.
"We must not see the mistakes of the past 30 years repeated."