Royal engagement: Prince William gives Kate his late mother's ring
The Prince said giving his fiance the 18ct blue sapphire ring would mean his mother 'didn't miss out'.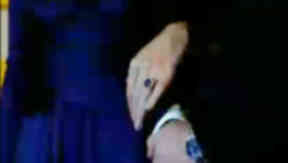 Prince William gave Kate Middleton his late mother's engagement ring saying it was his way of making sure she "didn't miss out on today and the excitement".
The engagement ring, which is now worth £80,000, was given to Princess Diana by Prince Charles in February 1981. The oval 18ct blue sapphire is surrounded by 14 small diamonds in a cluster setting.
Princess Diana, who died in Paris on August 31 1997, chose the ring from Gerrard Jewellers, who been the official crown jeweller for the British monarchy since 1843. It is believed the ring was similar to her own mother, Frances Shand Kydd's engagement ring.
Prince William and his fiance, who was sporting her new engagement ring, spoke at the official photocall on Tuesday at Clarence House.
He said giving Kate Princess Diana's ring was "my way of making sure my mother didn't miss out on today and the excitement".
The bride-to-be said that joining the Royal Family was a "daunting prospect" but added: "Hopefully I'll take it in my stride."
The couple first met in 1991 when they were both students at the University of St Andrews in Fife.
IN DETAIL