Parents' anguish over missing miner
Scots couple talk exclusively to STV News about their son Malcolm Campbell, 25, from Fife, who is trapped in a New Zealand mine.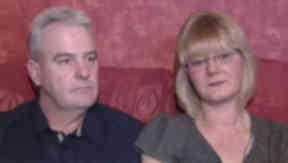 The parents of one of the two Scottish men missing following an explosion in a New Zealand mine have spoken exclusively to STV News about the anguish of waiting to find out if he is still alive.
Malcolm Campbell, 25, from Fife, has been trapped deep underground since Friday following an explosion at the Pike River Coal Mine in Atarau on New Zealand's South Island.
A total of 29 miners have been trapped including another Scot, Pete Rodger, 40, from Perthshire.
There has been no contact with the men and officials say it could be days before it is safe enough for rescue teams to enter the mine.
Speaking exclusively to STV News, Mr Campbell's father, Malcolm, said he was undoubtedly worried about his son, who he described as easy going, hard working and "just a good kid".
However, he stressed that he was trying to stay positive adding: "Our prayers and thoughts go out to everybody who is going through this in New Zealand. We just keep hoping that everything will be fine."
The 25-year-old miner is due to marry his fiancee, Amanda Shields, 23, on December 18, and his family are staying hopeful that the happy event will be able to go ahead.
His father said: "We are all looking forward to it, especially now."
Mining experts have expressed surprise at delays in launching a rescue effort to reach the miners who are trapped 5000 metres underground.
Fears for their safety is growing amid concerns that dangerous levels of poisonous gas could trigger a second blast.
Foreign Secretary William Hague said he was saddened to hear about the blast adding: "My thoughts are with those who are missing, and also with their families and friends, who are awaiting news."
Prime Minister David Cameron is being kept informed of developments.
Former Perth Grammar pupil Mr Rodger emigrated to New Zealand two years ago to be closer to his mother and sister who live there. He was formerly an offshore oil engineer.
It is not known if the men - who have now been missing for more than 30 hours - are dead or alive.
Mining expert Professor Dennis Buchanan from Imperial College, London, said he had expected rescue workers to have entered the mine by this stage.
He explained: "Despite the presence of methane, carbon dioxide or even carbon monoxide, normally you would expect they (the rescuers) would have the equipment available which would allow people to at least go in and do the surveys to asses the air in the mine.
"They are clearly concerned. You don't want to put rescuers in harm's way."
Two injured miners stumbled to the surface hours after the blast shot up the 108 metre ventilation shaft at the mine.
Pike River Mine's chief executive, Peter Whittall, said nothing had been heard from the other 16 employees and 13 contract miners since, and repeated attempts to contact them had failed.
"We can't risk sending men into the mine until we know exactly what (the quality of the gas) is," he said.
IN DETAIL: