Weather warning as heavy snow to cause travel chaos across Scotland
Alerts have been issued for the Borders, north-east Fife, Perth & Kinross, Angus, Aberdeenshire and Moray.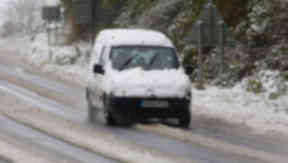 Commuters have been warned to prepare for disruption expected to be caused by heavy snow on Monday.
The advice comes following Met Office amber weather warnings for eastern Scotland urging the public to "be prepared".
Alerts have been issued for the Borders, north-east Fife, Perth & Kinross, Angus, Aberdeenshire and Moray. Heavy snow is expected, with up to 20cm on higher ground. Strong winds are also forecast with potential for drifting snow.
A number of existing yellow "be aware" warnings also remain in place across the rest of the country.
Transport Minister Keith Brown said: "As the wintry weather continues, Transport Scotland stands ready to respond swiftly and appropriately. Our Multi Agency Response Team (MART) will monitor the difficult conditions and the Scottish Government's resilience team is also closely monitoring the situation to help deliver a co-ordinated response.
"Motorists and public transport users should factor the weather and high likelihood of disruption into their travel plans, staying abreast of live travel information by listening to local radio reports and checking online sources.
"While we have implemented a raft of improvements ranging from higher than ever salt stocks to a strengthened fleet of gritters, the public must play their part by making full used of the vast sources of communications available. Drivers should take the road conditions into consideration, leaving extra time for journeys if necessary.
"The Traffic Scotland Control Centre continues to monitor the travel situation very closely and the website, Variable Message Signs and internet radio will be used to provide up to date information as the situation develops. I would urge the public to stay vigilant and tuned to local radio reports and the Traffic Scotland website as circumstances could quickly change."
Assistant Chief Constable Allan Moffat, speaking on behalf of the Association of Chief Police Officers in Scotland, said: "Weather warnings are in place for many parts of the country, particularly in the east. If you are travelling, be prepared for the winter weather. Check conditions and travel advice before setting off and ensure that both you and your vehicle are adequately prepared for the journey.
"Allow yourself plenty of time and make sure that you have sufficient fuel and supplies such as warm clothing, food and water in case you are delayed. When you are out on the road, remain vigilant and continue listening to weather and travel reports.
"The police service in Scotland continues to work in close association with the Met Office, Government agencies and trunk road operators to ensure that clear and concise safety messages are made available as soon as possible."
STV weather presenter Seán Batty cautioned that snow was "highly likely" to cause disruption on Monday and Tuesday.
He said: "An area of low pressure has been developing over France during the weekend. This will move north on Sunday night bringing widespread snow over northern and eastern England before spreading to eastern Scotland during the early hours of Monday.
"The snow will turn heavier and more persistent during the morning over parts of the Borders, especially eastern areas, East Lothian, Fife, Angus and Perthshire. Monday's snowfall will be accompanied by a strong south-easterly wind making it feel extremely cold and this will also lead to blizzards and blowing of the lying snow to create large drifts in places.
"Disruption is highly likely in eastern parts of the country on Monday and Tuesday with the wintry conditions expected to last into Tuesday afternoon at least. Drivers will need to prepare for reduced visibility and icy conditions along with the possibility that some of the roads may be closed.
"Roads that are most likely to be affected by this event are the A68, A1 in the Borders. Further north the A93, A90 the A85 from Crieff to Perth, A9 from Stirling to Pitlochry, A939, A97 and more significantly the M90 could be affected during this period and throughout both rush hours, especially on the more southern routes."
He added that power outages were a risk and train lines could become frozen, further warning that the conditions could cause more avalanches.
He continued: "With the combination of the strong winds and wet snow, which easily sticks to power lines, this could lead to ice accretion and bring lines down and lead to power outages and disruption to trains as lines become frozen.
"While the worst of the conditions will affect the east of the country, and more especially, Tayside and the Borders elsewhere there will be snow on and off too which could lead to a few centimetres. Areas likely to escape the worst are to the north-west such as The Hebrides and Northwest Highlands although there will still be a very cold wind.
"Avalanche risks will remain over the coming days especially in areas where there will be large falls of snow. It will stay very cold this week with further snow at times although a transition to less cold conditions next weekend is expected but that in itself could bring further heavy snow to some areas."