Algerian BP siege: Hostages were lined up and shot by militants
Hostages at BP oil plant in Algeria were shot by Islamist militants while the Algerian special forces attempted to free them.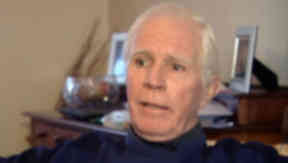 The brother of a Scot killed in the Algerian hostage crisis says Islamist militants responded to an assault by the Algerian army by lining up hostages and shooting them.
The four-day stand-off in the Sahara desert came to a violent end when Algerian special forces mounted a final assault on the last Islamist militants holding out at the remote BP gas plant at In Amenas.
Kenneth Whiteside was one of five British nationals and a UK resident who are thought to be either dead or are unaccounted for.
Speaking to STV News, his brother Robert Whiteside said: "He was executed as the Algerian army went in the first time. They just lined up four and shot them."
He described what happened, saying "The first thing that they did was line up four hostages, one being Kenny, and executed them. Why, I don't know, but that's what they did."
He commented on the way the Algerian forces handled the operation, saying: "The Algerians weren't bothered about the hostages as such, they just wanted to get in and get it sorted out."
"I don't think it mattered who went in, it would have been a disaster in the end."
The Algerian interior ministry reported that a total of 23 hostages and all 32 terrorists had died in the operation, while 107 foreign workers and 685 local employees had been released.
On Monday it was revealed that a Tayside oil worker is presumed dead in Algerian.
Carson Bilsland, 46, originally from Bridge of Cally, near Blairgowrie, Perthshire, was described as "one of life's indomitable characters" as friends paid tribute to him.
It is understood his family are being kept up to date with the latest developments.