Charity raises £3000 to fund operation for floppy-legged feline
A four-month-old kitten born with a rare bone condition radial was sold on the internet.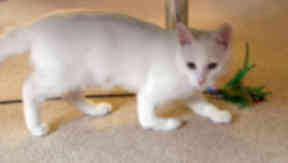 A four-month-old kitten born with a rare bone condition will soon be feline much better after thanks to a cat charity.
Harvey, who suffers from radial agenesis, needs an operation to insert metal pins where bones missing from his front legs should be.
He's as lively and playful as any kitten could be but he's had a hard life so far with his owner putting him up for sale on internet auction site Gumtree.
Lorraine Currie, co-ordinator of Cats Protection's Glasgow branch, said: "A friend of the branch spotted him Gumtree.
"It said in the advert he had two broken legs but when she got there he had no bones at all.
"She felt sorry for him and took him home but it became clear he needed a lot of treatment and that's when we got involved."
The charity has raised more than £3000 in just three days to pay for Harvey's life-changing operation but it can't go ahead until he is six months old.
Radial agenesis, which occurs when the animal's leg bones fail to develop, has only been found in four cats in Scotland in the past 30 years.
The condition can be corrected by implanting metal pins between the paw and upper bone, but an operation can only be carried out on cats over six months old to give bones time to harden and take the weight of the pins.
Harvey's 'foster carer' Liz McCulloch said: "He's a lovely wee thing and because Harvey was born that way he doesn't know there's anything wrong with him, so he runs around on his elbows and happily plays with my other cat and dog."
It could take Harvey several months to get back on his feet after the operation but he's expected to make a full recovery and will then be re-homed. He'll always be a house cat, but it seems that might suit him quite well.