Survey suggests slight fall in support for Scottish independence
Researchers find 34% of voters agree the country should be independent with 47% opposed.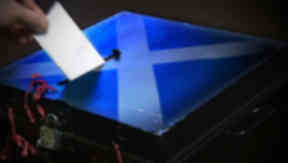 Support for independence has fallen slightly since October, according to a survey for a Sunday newspaper.
The Panelbase survey for The Sunday Times and Real Radio Scotland found 34% agreed the country should be independent, with 47% opposed.
The figures show those in favour of Scotland leaving the UK has fallen by 3% since October, with those voting to remain in the union up 2%.
However, those who have still to make up their minds also increased by 2% to 19%.
The poll also put some of the claims arising from the independence debate to voters, including the country's status in the EU, defence and North Sea oil revenues.
It found 60% of the 800 respondents agreed an independent Scotland would not automatically become a member of the European Union.
When asked how it shaped their views on voting, one third said they would be less likely to vote yes if Scotland did not automatically become a member of the EU, while 28% said it would make them more likely to do so.
Almost half of those asked (49%) agreed independence would cost Scotland many defence jobs, with 24% disagreeing and 28% unsure.
When asked if they thought claims that North Sea oil revenues are running out were true, 46% said yes while 37% disagreed.
On finances, 40% agreed an independent Scotland would be financially worse off than the rest of the UK, while 37% said it would not and 23% are unsure.
However, a question on the European single currency revealed 52% said they did not agree with claims that an independent Scotland would have to join the Euro rather than keep the pound, with just 19% agreeing.
The poll, which interviewed a sample of 1004 Scots between January 11 and 21, also asked about voting intentions for the Scottish Parliament, which showed the SNP remains comfortably ahead on 45% in the constituency vote and 44% in the regional vote.
Blair Jenkins, chief executive of pro-independence group Yes Scotland, said: "What this poll shows is that there is solid and sustained support for a Yes vote in 2014 and with around a fifth of voters yet to make up their minds there is everything to play for. On these figures, a swing of just 7% would put Yes ahead.
"At 34%, this is 11 points higher than the recent Scottish Social Attitudes survey which, significantly, was conducted before we had the brutal Westminster welfare cuts, making a million Scots families worse off, and the UK Government threatening to take us out of Europe, our largest international market.
He added: "This debate has a long way to go and we at the Yes Campaign are confident that we will deliver a positive result in autumn 2014."
Welcoming the Holyrood voting figures, SNP business convener Derek Mackay said: "For the SNP to enjoy the same landslide levels of support - almost six years into office - is a fantastic achievement by any standard.
"The SNP continues to move Scotland forward - delivering strong, competent government in the face of Westminster cuts - and the people of Scotland overwhelmingly trust the Scottish Government to act in Scotland's best interests compared to the Westminster Government."