Irn-Bru sausage: the perfect hangover cure?
A Scots butcher has come up with a sausage combining our 'other national drink' with our favourite post-alcohol snack.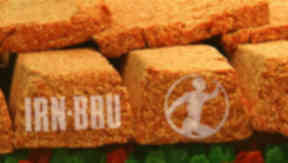 A butcher has created the ultimate Scottish hangover cure by combining Irn-Bru and square sausage.
Andy Sinclair from Alloa has replaced the water in the sausage with the fizzy orange drink, giving it "a sweet taste".
The butcher said the "sausage-with-a-kick" has been flying off his shelves. He said: "One guy said he 'felt like he'd gone to heaven' after tasting it. Kids especially seem to love it, but I think it would also be very good for hangovers."
As most people know, no matter what you do after a boozy night, rehydration and eating something to soak-up the alcohol is the key to feeling better. So perhaps the idea of the ultimate hangover cure is a refreshing drink united with a bite that fulfils both.
The Irn-Bru sausage on a roll could be many people's solution to feeling refreshed after a few too many drinks. The recipe took Mr Sinclair three weeks to get right.
Mr Sinclair added: "I always like to experiment with flavours. I started off with diet Irn-Bru, but the flavour wasn't there. The regular gives the sausage a sweet taste.
"The kick comes after it. I would say it has improved the flavour of the sausage.
"And people seem to be loving it, when I made my second batch they were waiting outside the door at 9am to get them. I'm definitely keeping it on. I try to keep an open mind."
However, depending on the severity of the boozing, perhaps most people won't be queuing up that early in the morning.
Hangovers are poorly understood, and there is no 'known cure' so anything that helps ease a dry tongue and a sore head may prove useful to many.
STV News asked people in Aberdeen what they thought of the Irn-Bru sausage and the possibility of it curing a hangover. One man said he was not convinced as he would rather enjoy the bubbly drink nice and cold from the fridge.
Another man said he thought it would be ideal to revitalise after alcohol, adding "what a perfect combination, I can't wait to try it."
What do you think of this idea? Contact the newsdesk and let us know.