Conservative policy argues for more fossil fuel and less windpower
Power with Responsibility review says fossil fuels such as shale gas should be exploited.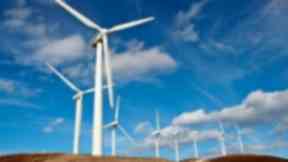 Wind farms should be substantially cut and fossil fuels such as shale gas should be exploited, according to a review of Scottish Conservative energy policy.
The shake-up calls for councils to be given the power to halt all wind farm applications for a year and suggests homeowners should be compensated for loss value because of turbines.
The party says it wants to shift the balance away from onshore wind to other renewable sources.
New nuclear power stations should also be built to replace Hunterston B and Torness.
Tory leader Ruth Davidson unveiled the policy review in Falkirk.
"This is a comprehensive review of Scotland's energy needs, which does not focus narrowly on one particular part of the industry to meet demand.
"Crucial to keeping the lights on in years to come is an energy mix made up of renewables, nuclear and oil and gas. If we get this balance right then we can minimise the cost for consumers and the impact on our communities up and down the country."
The SNP Government is opposed to new nuclear power in Scotland and set a 100% renewable electricity target for 2020, based on the current level of consumption.
In October last year First Minister Alex Salmond announced a new goal to meet half of Scotland's electricity demand from renewable energy by 2015.
The Conservative review, called Power with Responsibility, set out a wide range of policies. They include a clearer taxation regime to encourage shale gas and coal-bed methane exploration, changes to planning laws to help improve energy efficiency in older buildings and more support for wave, tidal, hydro and carbon-capture and storage schemes.
Review
The review highlights a Danish approach where a valuation authority was set up to rule in cases where someone believes the price of their home was reduced by the building of turbines.
Tories also want an independent study into the health impacts of wind farms and want a two-kilometre exclusion zone for turbines around homes.
Focusing on wind power, the Tories said the Scottish Government could well overshoot its renewable targets.
The party calculates that total output would reach 134% if all turbines in the planning stages are given consent.
Struan Stevenson, a Tory MEP, said: "The march of the wind farms under Alex Salmond and the SNP has to be brought to a halt. The figures are quite stark. The thousands of turbines in operation, being built or in the planning stage, mean that Scotland will easily overshoot its electricity target.
"This exposes the folly of covering large swathes of our cherished countryside with turbines, in many cases against the will of local communities and councils.
"We have always said appropriately sited wind turbines can play a role in a mixed energy-source environment. Instead, the Scottish Government is ignoring other sources such as nuclear and pinning all its hopes on a form of energy that has been found to be unreliable and intermittent, not to mention hugely unpopular with the general public."
Tory MSP Murdo Fraser, convener of the Scottish Parliament's Energy, Economy and Tourism Committee, said taxes should be favourable to North Sea oil and gas.
"As we can see from the experience in the US, the exploration of shale gas and coal-bed methane has the potential to raise billions of pounds, resulting in reduced energy bills," he said.
"But as with all new technologies, we must be evidence-led in exploring the best and safest routes of development in this field."
Report
Mr Fraser's committee published a report last year which found that the Government's renewable targets can be met. The report concluded that there has been no "robust, empirical evidence" that there is a negative impact on tourism from renewable projects.
Scottish Liberal Democrat energy spokesperson Liam McArthur said: "Achieving our climate change and emissions-reduction targets is going to be tough. However, these targets are supported by all the main parties in Scotland, including the Tories, and meeting them will require our renewable energy resources to be fully exploited.
"The Tories should think carefully about the increasingly hostile and populist rhetoric they are using in relation to wind energy. Undermining confidence and therefore investment in the sector will do nothing for jobs and wealth creation, or our efforts to de-carbonise our economy.
"It may also put at risk our ability to achieve our statutory commitments."
Chic Brodie, an SNP MSP who sits on the Economy, Energy and Tourism Committee, said: "The Tories' preference of nuclear power is only possible with eye-watering levels of subsidy attached, either from taxpayers or through consumer power bills. With new nuclear energy actually set to cost the public significantly more per megawatt than wind energy, the last thing that people need in these difficult times is to be lumbered with the bill for a Tory nuclear white elephant.
"Far from being an energy review, it seems that the Tories have simply reaffirmed their commitment to the kind of wrong-headed nonsense that has gotten them into the position they are in with the Scottish electorate.
"Instead of throwing away the opportunities that our enormous renewable resources offer us as the Tories seem to want, the SNP Government is bringing jobs and investment into Scotland's economy by supporting the growth of the thriving green energy sector."
Proposals
Energy Minister Fergus Ewing said: "These proposals are ill-thought through, contradict UK Government policy and demonstrate a general ignorance about energy policy and the renewables industry.
"In Scotland we have enviable green energy resources which are delivering jobs and investment to communities across the country. It's ironic these plans are announced on the day Scottish Renewables figures show £165m has been invested in Scotland's offshore wind sector."
He said about two-thirds of wind farm applications are accepted on appeal and pointed out that there is already guidance that suggests a two-kilometre barrier between wind farms and settlements.
"In contrast to these flawed proposals, this Government is working to ensure Scotland continues to be a leader in the development of renewables so we can meet global emission reduction targets, enhance security of supply, lower relative costs to households and secure jobs and investment to Scotland as part of our ongoing shift to a low carbon economy."
Niall Stuart, chief executive of Scottish Renewables, said: "I don't think the public will support a policy attacking an industry delivering thousands of jobs, investment worth billions and helping tackle climate change.
"Any slowdown in development of renewable energy projects will mean much-needed jobs and investment will disappear elsewhere.
"We have fantastic natural energy resources right on our doorstep with the potential to build a world class industry. Why would we want to destroy that at this difficult time for the economy and when the evidence on climate change gets ever starker?"
Mr Stuart said Conservatives' report dealt with the cost of energy but failed to mention the "£3bn annual cost of cleaning up the legacy of our nuclear power stations".
The report also "grossly overstates the level of financial support paid to wind farm operators", he said.