Pensioner attacked by robbers who pretended to be police officers
The 65-year-old was left 'very traumatised' by the robbery, police said.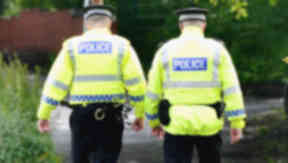 A pensioner was attacked and robbed by two men who claimed to be police officers.
The two men posing as police officers attended the man's home in North Lanarkshire on Monday evening.
Strathclyde Police said the robbers told the 65-year-old they were looking for stolen goods so he let them into his home in Kennedy Drive, Airdrie, at around 6pm.
Once inside, one of the men held the pensioner in his bedroom, while the other stole gold jewellery, a purse and medals. The pensioner was then taken into the common close of the building before the robbers ran off.
Detective Chief Inspector Pat Campbell, of Motherwell Police Office, said: "This was a brazen and despicable attack which has left an elderly man very traumatised. We are doing everything in our power to catch the men responsible. I'd like to remind everyone, particularly elderly members of the community - if anyone comes at your door, always, without exception, ask them for identification.
"A police officer should show you his or her warrant card. Ask them which station they've been deployed from, then close and lock your door while you contact the station to check they are genuine. Use your door chain to ensure they cannot gain entry until you are satisfied with their identity."
One of the robbers was around 5ft 4in and was wearing a dark suit, black jacket and glasses. The second was 6ft and was wearing a dark suit and black jacket.
Both men were wearing ear pieces and were carrying fake warrant cards.
Anyone with information is asked to contact CID at Motherwell Police Office on 01698 483 000.