Scottish football in turmoil after Polish referees withdraw
12 Polish officials who were set to take charge of games following a strike by Scottish referees will stay at home.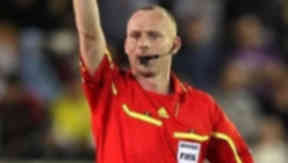 The football fixture list in Scotland this weekend has been plunged into turmoil once more after 12 Polish referees who were set to officiate Scottish games have withdrawn their services.
The Polish contingent was set to make up a quarter of the referees and linesman taking charge of games this weekend following the strike of category 1 referees.
A spokesman from the Polish FA told STV News on Friday morning: "We will not be sending our referees to Scotland tomorrow because they are needed for our domestic games.
"We did confirm to the SFA yesterday we would be sending a team of 12 officials. That is no longer the case. Our domestic games will take place today, tomorrow and Sunday."
The Polish FA would not confirm why the position on sending their officials has changed. Three Polish referees - Hubert Siejewicz, Pawel Gil and Marcin Borski - will now not provide cover at Scottish football matches.
Officials from Portugal, Israel, Malta and Luxembourg are set to arrive in Scotland for the games. But the withdrawal of the 12 Polish referees puts all the remaining matches in doubt.
REFEREE STRIKE