Free bus travel for pensioners secured with new £10m deal
Transport Scotland and bus operators strike a fresh deal on the free travel for disabled people and pensioners.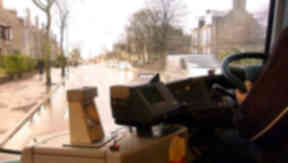 Free bus travel for pensioners and people with disabilities has been secured in a £10m deal, the Scottish Government has announced.
The investment deal is between Transport Scotland and the country's bus industry which will see operators receive the money in March to help with cash flow.
Under the deal, the reimbursement rate paid by the government to operators for the free travel scheme will reduce over the next two years.
Transport Minister Keith Brown said on Thursday: "Concessionary travel is a key part of the Scottish Government's social wage and makes a real difference to many of our elderly and disabled.
"Today's agreement secures concessionary travel for the future and ensures the bus industry not only receives all of this year's budget in full but a further £10m to support investment in the industry during tough financial times."
He added: "The changes to the reimbursement arrangements are based on hard evidence and we have worked with the industry to provide them with some much-needed stability going forward.
"But the needs of the passenger must come first and we are encouraging operators to continue to work with us to deliver services for passengers at affordable prices."
The government stated the arrangements will provide the transport sector with an extra £15m to adjust to the reduced rates between now and March 2015. Currently, more than 1.2m people in Scotland hold national entitlement cards to access free travel.
Cathy Leech, chairwoman of the Scottish Pensioners' Forum, said: "We welcome the decision by the Scottish Government to safeguard the Concessionary Travel Scheme in light of increased prices on some many other day to day items. We are delighted that the Scottish Government has the vision to see this as an essential provision, especially for those living in rural areas."