Giffnock football club's challenge to help Kenya's children
Giffnock Soccer Centre has supported children in Kenya by sending football kits and equipment.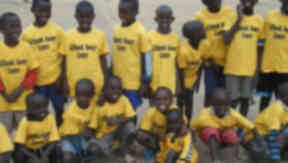 For many children it's a reason to get outside and run around but for one sports club in East Renfrewshire, football means a lot more than that.
Giffnock Soccer Centre are sharing their love for the beautiful game by teaming up with a charity to send their unused football kit and equipment to children in Nairobi.
The football club is working with The Johari Foundation to help children in one of Africa's biggest slums enjoy the sport.
And the project not only helps those who receive the kit, but also gives those sending the t-shirts and gloves a sense of perspective.
Joe McKerns, from Giffnock Soccer Centre, said: "It's great for the kids to be involved in something, not just their football training, and for the club itself to give something back.
"We live in quite a nice area and we've got a lot of kids here and we've got a lot of equipment and rather than it go to waste, we get a chance for it to go across to Kenya and do some good with it."
Now the football club have set their sights on a new project – to raise money to fund education programmes.
The coaches are setting the standard for commitment to the cause by cycling more than 700 miles through six countries to a tournament in May to raise funds for their initiative.
The funds raised will initially support a football squad of children being schooled in the area, with hopes one day it could go on to be an exchange programme between the two communities.
Tom Cromar, from The Johari Foundation, said: "These kids are just the same as our kids. They're very intelligent, very clever, they just don't have the opportunities in life."