Severe weather warning for Scotland as blizzard conditions predicted
Northern parts of the country and the central belt will be worst hit with amber and yellow warnings issued.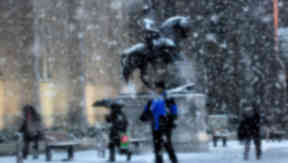 Severe weather is forecast for many parts of Scotland with warnings issued for blizzard conditions.
Northern parts of the country and the central belt will be worst hit, with amber "be prepared" snow warnings and yellow "be aware" high wind warnings issued for Strathclyde, the Highlands and the Western Isles on Tuesday.
Up to 20cm of snow could fall in some areas, particularly on higher ground. Amber snow warnings are also in place for Grampian, Tayside, Fife, the Lothians and Borders, and both south-west and central Scotland.
"Treacherous" road conditions led to a car overturning in Bathgate, West Lothian with a couple and child inside.
Gusts exceeding 70mph could hit Orkney and Shetland, with conditions on the mountains described as "atrocious". Gusts reaching up to 60mph are also expected in Grampian.
The westerly gale-force winds mixed with frequent and heavy show could create temporary blizzard conditions. It comes the day after waves off the west coast reached heights of more than 21m.
Ferry services saw another day of disruption on Tuesday with routes to Coll and Tiree, Lewis and Mull cancelled and many more delayed. Services to Orkney and Shetland are also cancelled and delayed.
Northern Constabulary said significant disruption could be caused to higher routes in the region, including the busy A9 trunk road. It urged drivers to allow greater stopping distances and to prepare for potential delays.
Transport Scotland`s Multi-Agency Response Team (MART) and the Scottish Government's resilience team will monitor conditions closely to co-ordinate and provide assistance across the transport network.
Transport Minister Keith Brown said: "We would expect to see difficult conditions emerging on our roads, as well as the potential for disruption to all modes of transport.
"As always we are playing our part by delivering winter service treatments to our roads, but sudden weather changes can occur, and the impact the weather can have from one location to the next can be very varied.
"Stopping distances increase tenfold when driving in snow and ice, so it is absolutely vital for the public to take on board police advice about driving to the conditions.
"I would again ask the public to stay up to date with live travel information and local radio reports."