Scottish women dress to chill
Despite plunging temperatures, sales of mini skirts are rocketing north of the Border and hemlines in Glasgow and Edinburgh are the shortest in the UK.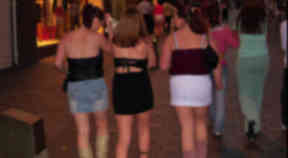 **You would think the current cold spell would be an excuse to dust down those dowdy winter cosies. **
Not a bit of it. Women in Scotland have turned the other cheek to the chilly weather and are continuing to wear their mini skirts.
According to the Scottish Daily Mail, researchers have found that hemlines north of the Border are plunging as quickly as the temperature, with Scottish girls wearing skirts that are on average 17cm shorter than their southern counterparts.
Debenhams found that the average skirt length in Edinburgh is just 30cm, while in Glasgow it's a slightly more modest 33cm.
In contrast, the study found that the further south in the country you go, the longer the skirts become, with girls in Bournemouth plumping for 47cm.
Over the last month, sales of skimpy skirts in Glasgow increased by 21 per cent, while in London it was thermal underwear that was doing the best business, seeing a 71 per cent increase.
The findings come as heavy snowfall continues to blanket much of the country, and temperatures are predicted to plummet to minus 20 in the week to come.