EU policy shake up 'will massively boost fish stocks and create jobs'
Efforts to rewrite the controversial Common Fisheries Policy (CFP) have been given a boost.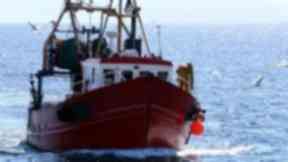 The biggest shake-up in the history of the EU's fisheries policy will massively boost fish stocks and fishermen's incomes and create a third more jobs in the sector, it has been claimed.
Efforts to rewrite the controversial Common Fisheries Policy (CFP) have been given a boost by new decision-making powers expected to be used by MEPs tomorrow to force change on ministers accused of years of failure to get to grips with excess fishing and dwindling supplies.
On the eve of the vote, EU Fisheries commissioner Maria Damanaki told a European Parliament debate in Strasbourg: "We have to change the policy to stop over-fishing. We have a chance to create a decent living (for fishermen)."
Ms Damanaki, who once described the CFP as "broken", went on: "If we go through with this deal, by 2020 we are going to increase the fish in our seas by 15m tonnes and the fish landed by our fishermen by half a million tonnes. We will also increase incomes by 2022 by 25% and create 30% more jobs.
The plans on the table include an end to the ridiculed practice of "discards" - throwing dead fish back into the sea - because of strict CFP rules on the size of landed catches.
"We can't justify discarding any more. We can't explain to anybody that we have to throw away 23% - this is the average - of the fish we catch."
The MEPs vote will trigger three-way final negotiations between the Commission, MEPs and EU fisheries ministers before a final agreement is forged. But the fact that the European Parliament now has "co-decision" powers over fishing policy means more clout for those demanding major changes.
And the Irish government, currently holding the six-month EU presidency, made clear today it was backing tough measures.
Ireland's minister for agriculture, food and the marine, Simon Coveney - a former MEP - told the European Parliament: "For the first time the European Parliament will be fundamentally a partner in the decision-making process over CFP reform.
"We can make something significant happen with a new CFP, but there is a real danger that if we don't grasp this opportunity we may lose momentum. Our citizens would not forgive us easily, for there is no reason for us to delay any longer after debating this for more than two years."
Mr Coveney said his task would then be to get fisheries ministers to deliver their verdict by the end of this month, with a deal on a new CFP by the end of the Irish presidency which runs until July.
Liberal Democrat MEP Chris Davies said: "This historic vote will be a chance to do something good for fish and fishermen, but also something good for Europe because without doubt the CFP has not been an ornament to this union. It has been criticised enormously."
He went on: "The policy has been wrong. Year after year ministers have got together to set catch allowances and quotas, too often ignoring the scientific advice, too often listening to fishermen who can be their own worst enemy in looking only to the short term rather than planning for the long term - urging ministers to exceed quotas even if it reduces stocks in the long term."
Mr Davies added: "Now we have long-term management plans for every fishery, chance to rebuild fish stocks above the maximum sustainable levels and to put an end to discards, which are a moral disgrace, throwing millions of tonnes of perfectly edible fish overboard."
Feedback: We want your feedback on our site. If you've got questions, spotted an inaccuracy or just want to share some ideas about our news service, please email us on web@stv.tv.
Download: The STV News app is Scotland's favourite and is available for iPhone from the Apple store and for Android from Google Play. Download it today and continue to enjoy STV News wherever you are.