Chef killed partner who had already eaten ahead of dinner party
Peter Cumming claimed he 'snapped' and killed Lynda Brown at their home in Glasgow.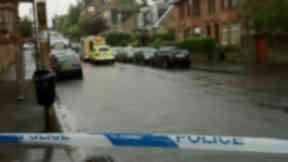 A chef stabbed his partner to death during a row as he prepared food for a dinner party.
Peter Cumming was jailed for life for murdering Lynda Brown in their home in Glasgow's south side.
The 58-year-old snapped when he heard that Ms Brown, a Glasgow University employee, had already eaten, the High Court in Glasgow heard.
On Wednesday, Cumming was told he would serve at least 14 years in prison before being able to apply for parole for 14 years after admitting killing his 63-year-old partner by stabbing her four times in the back.
The court heard that Ms Brown and Cumming had planned a dinner party and invited two friends Trevor and Rosemary Clarke. When Cumming returned after buying ingredients for the meal he claimed that Ms Brown told him that she had already eaten and this made him "really angry".
Cumming, who had an alcohol problem and who had previously been convicted of domestic abuse on Miss Brown, claimed they had words and "something snapped." He told police: "I was in behind her in the bedroom and I had the knife and I don't know where it came from I don't know. I was out of control. It's just not like me I am so in control. I need to keep things in control."
The killer said Ms Brown reacted to his anger by goading him and said he picked up a large kitchen knife and plunged it into her. He said he stabbed her once while she was standing and then once again as she lay on the ground. Cumming told police that 5ft 3in Ms Brown, who weighed eight and a half stones, had not attacked him.
Advocate depute Andrew Miller, prosecuting, said that a post-mortem examination revealed that she had been stabbed four times in the back.
Ms Brown managed to dial 999 around 6pm before the fatal attack on September 1 last year and told the operator: "My partner's threatening me with a knife."
When police officers arrived at the flat in Mannering Road, Shawlands, eight minutes later they found Ms Brown lying dead on the bedroom floor with a knife embedded in her back.
Minutes later Mr and Mrs Clarke arrived for the dinner party and discovered their hostess was dead and their host in handcuffs.
The court was told that there were tensions in the relationship between Cumming and Ms Brown, who worked at Glasgow University's biochemistry department, due to his drinking.
Defence QC Gordon Jackson said: "From the outset he has been willing to plead guilty to murder. He is hugely remorseful. His memory of what happened is hazy. Ironically, the friends who were coming to dinner were, unknown to him, going to tackle him about his drinking."
Lord Bannatyne told the murderer: "This was in any view a pretty senseless crime which has had a huge impact on the family of the victim. This was in my view a particularly nasty murder. A vicious attack on a defenceless woman with a deadly weapon - a knife. In this case the victim was entirely innocent."