Medical students to practice on robot patients at new training centre
The family of seven robots includes Reg who has a heartbeat and can describe his symptoms.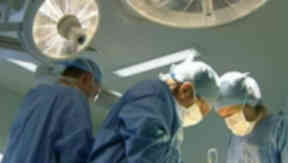 Doctors, nurses and medical students will be given the opportunity to practice on robot patients following the opening of a new training centre.
The Scottish Clinical Simulation Centre, based at Forth Valley Royal Hospital in Larbert, is home to hi-tech mannequins in simulated operating theatres.
The family of seven robots includes Stan, who can respond to anaesthetic gases and is used to train anaesthetists.
Reg has a heartbeat, can give blood and describe his symptoms, and is used to train emergency doctors and nurses.
The "family" also includes a baby, children and a pregnant woman.
Health Secretary Alex Neil said: "Stan, Reg and the rest of the family are brilliant. Reg was even able to tell me how he was feeling - we had a good chat and I am glad to hear the students here are treating him well.
"Our NHS is moving with the times and taking advantage of new technologies so we can provide the best care ever for patients.
"Scotland has some of the safest hospitals in the world and these new training techniques will make them even safer."
Dr Michael Moneypenny, director of the centre, said the facility was aimed at improving patient safety.
He said: "Feedback from course participants has been extremely positive, with staff reporting that they feel more confident and skilled in how they apply their knowledge, particularly in managing medical emergencies, which ultimately benefits patients."
The simulation centre is the latest in a series of technologies being used at Forth Valley, which was the first hospital in the UK to use a fleet of automated guided vehicles (AGVs) to deliver a wide range of supplies around hospital wards.
It also has a fully robotic pharmacy system, capable of labelling medicines as well as stocking supplies and picking up drugs, plus a robotic mail sorting system.