Lighthouse worker wins compensation after bumpy sea injured her back
Rosemary Cairns was on her way to carry out an inventory when the boat she was in 'banged' down over a wave.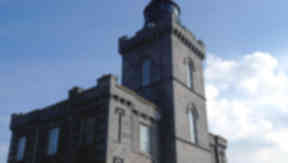 A finance assistant who went to carry out an inventory check on lighthouse equipment on a Scots island has been awarded £21,500 in damages after hurting her back as a boat "banged down" in waves.
Rosemary Cairns told a court she was off work for 15 months following the accident on her trip to the Isle of May in the Firth of Forth.
She sued her employers the Northern Lighthouse Board and the boat owners Calypso Marine in an action at the Court of Session in Edinburgh. The amount of damages in the action was agreed but liability was contested.
Lord Drummond Young ruled both were liable but the boat firm should reimburse her for the whole amount they are liable to pay her.
The judge said: "The net effect will be that they are liable for the full sum payable to the pursuer (Mrs Cairns)."
Mrs Cairns, 55, from Edinburgh, had set off with others from Pittenweem, Fife, on the rigid inflatable Taeping to the island in October 2009.
She told the court: "I could see the lighthouse from the distance. It wasn't far off. I felt the waves had started to get higher It was a bit more choppy I felt."
She said the boat went up on the waves twice and "banged down". On the first occasion she felt something happen to her back and the second time she screamed.
She was in pain and felt sick and boat returned slowly to Anstruther where an ambulance met her to take her to hospital.
Lord Drummond Young said: "I think it is clear that the boat was driven continuously at a speed of about 17 to 18 knots, which was too fast for the conditions as it gave rise to a significant risk of slamming, with a consequent risk of injury to the passengers. That is precisely what happened: the boat slammed after crossing each of two successive waves and the pursuer was injured in consequence."
The judge said it was "plainly foreseeable" there was such a risk of injury if the boat was driven too fast in the prevailing weather conditions.
He said it was clear from expert evidence in the case it would have been possible to proceed slowly in such a way as to virtually to eliminate the risk of slamming in waves of the sort described in weather data.
Lord Drummond Young said in his written judgment he was of the opinion the safety briefing given by Stewart Taylor, the managing director of Calypso, was "inadequate" in that it failed to mention the need for bracing and taking weight on the legs.
The judge said: "Had that been done, it seems quite clear that the risk of injury would have been very much lessened."