Hundreds of schools will remain closed for the week
Schools in Lothian and Perth to be closed until next week, but many are expected to reopen in Glasgow, Edinburgh and Stirling.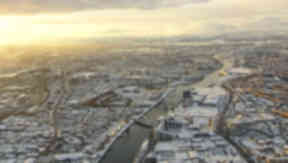 Many schools across Scotland are expected to reopen tomorrow, according to council education departments.
But other local authorities have taken the decision to keep hundreds of schools in their regions closed for the rest of the week.
Glasgow City Council has said that it intends to open all of its schools on Thursday, but there may be individual cases where a school might have to remain closed.
Stirling Council also plans to open "as many schools as possible", but they said that overnight weather could affect this. The situation will be reviewed on Thursday morning.
Due to the conditions of roads and car parks, pupils and staff are being asked to walk to school wherever possible.
Dundee City Council has announced that all schools are to remain closed on Thursday due to the severe weather conditions. Pupils are being asked to work online using their Glow accounts where possible.
In Fife, most schools are expected to remain closed. However, it will be up to individual headteachers to decide if their school can reopen.
Heads will announce between 6 and 7am tomorrow if their schools are opening and all open schools will be posted on the council website, Twitter and Facebook.
Parents will receive text and emails only if their school is re-opening.
Safety
Bryan Kirkaldy, Education Head of Service, said: "Closing schools is always a last resort but our biggest concern is safety, both of the pupils and the staff.
"Headteachers will look at a number of factors before deciding to re-open their school. We understand the difficulties faced when schools close unexpectedly and I would ask parents to be patient."
Edinburgh City Council said that Leith Academy will be open for all pupils (S1-S6). All 23 other secondary schools will be open for 4th-6th year pupils tomorrow apart from Queensferry High which will be closed. This includes Currie and Balerno High, where all S4-S6 pupils are being asked to attend.
The council is also planning to open 30 of Edinburgh's 87 primary schools tomorrow. All special schools will remain closed with the exception of the Panmure St Anne's service.
Meanwhile, Midlothian, East Lothian and West Lothian Councils have announced that all schools will be closed for the rest of the week, with the aim being to reopen them on Monday 6. Scottish Borders Council also confirmed that all 73 schools in the region will remain closed until Monday at the earliest.
West Lothian Council leader Peter Johnston said: "It's always a difficult decision to close schools, but we believe this is the right choice on this occasion. In the current conditions, travelling to and from school would have been a clear health and safety risk to our children.
Most schools in Perth and Kinloss will also be closed for the rest of the week, with the exceptions of Logierait Primary School, Pitlochry Nursery, Pitlochry Primary School and Pitlochry Secondary School. All other schools will be closed on Thursday and Friday.
In South Lanarkshire, all council-run schools and nurseries will be closed on Thursday with the exception of Stonelaw High, which will be open for S4 pupils. The council said that it hopes to put in place normal arrangements for Friday.
For up-to-date information on schools in your area, please follow the links below.
IN DETAIL
PICTURES
FROM STV LOCAL
FURTHER INFORMATION