Pope Benedict XVI's surprise resignation 'saddens' Cardinal O'Brien
The 85-year-old Pontiff recognises 'incapacity to adequately fulfil the ministry entrusted to me'.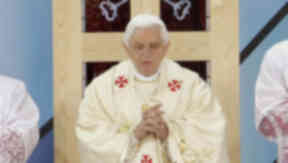 Pope Benedict XVI's surprise announcement that he is to resign as head of the Roman Catholic Church has 'shocked and saddened' Cardinal Keith O'Brien.
In a surprise announcement, the Vatican said the 85-year-old Pontiff is too old to continue as head of the billion-strong church and would leave on February 28 after nearly eight years in office.
A statement said the Pope, who has appeared increasingly frail, was unable to continue in office due to his age and diminishing strength and the papacy will remain vacant until a successor is elected.
Scottish Cardinal Keith O'Brien said: "Like many people throughout the world, I was shocked and saddened to hear of the decision by Pope Benedict XVI to resign.
"I know that his decision will have been considered most carefully and that it has come after much prayer and reflection."
First Minister Alex Salmond said: "The Scottish Government holds the Holy See in the utmost respect and is aware Pope Benedict's decision will be a great shock to the Catholic community in Scotland and internationally.
"We should respect the decision of His Holiness to pass on his ministry in a selfless gesture, on health grounds, in the best interests of the church.
"Like many Scots, I remember with great fondness the resounding success of Pope Benedict's visit to Scotland in 2010 and the papal mass celebrated at Bellahouston Park. I wish him a very peaceful retirement."
Pope Benedict, who is the first Pontiff to resign in nearly 600 years, said: "After having repeatedly examined my conscience before God, I have come to the certainty that my strengths due to an advanced age are no longer suited to an adequate exercise of the Petrine ministry."
He told cardinals: "I am well aware that this ministry, due to its essential spiritual nature, must be carried out not only by words and deeds but no less with prayer and suffering.
"However, in today's world, subject to so many rapid changes and shaken by questions of deep relevance for the life of faith, in order to govern the bark of St Peter and proclaim the Gospel, both strength of mind and body are necessary — strengths which in the last few months, has deteriorated in me to the extent that I have had to recognise my incapacity to adequately fulfil the ministry entrusted to me."
Federico Lombardi, Vatican spokesman, said the pope revealed he had reached his decision after a "deep moment of reflection to consider the mission he received from God."
The surprise announcement follows reports that the pope, who was elected in April 2005 following the death of Pope John Paul II, was increasingly frail.
The last pope to resign was Pope Gregory XII, who stepped down in 1415 in a deal to end the Great Western Schism among competing papal claimants.
Prime Minister David Cameron also paid tribute to Pope Benedict.
"He has worked tirelessly to strengthen Britain's relations with the Holy See. His visit to Britain in 2010 is remembered with great respect and affection. He will be missed as a spiritual leader to millions."
The Moderator of the General Assembly of the Church of Scotland, the Right Reverend Albert Bogle, said the decision was one of great courage and demonstrates a far-seeing insight.
"The news that he intends to devotedly serve the Holy Church of God in the future through a life dedicated to prayer is a great example and a great encouragement to Christians all over the world," he said.
Up to 120 cardinals — including 74-year-old Cardinal O'Brien — will decide who will now lead the millions of Catholics around the globe.
The influential College of Cardinals will meet in Rome and choose Pope Benedict XVI's replacement in a tradition dating back almost 1000 years.
Father Lombardi told a news conference that "we should have a new Pope for Easter".