Tough mortgage lending conditions push house prices down by £6000
Homes in Edinburgh experienced some of the sharpest declines as values fell almost £17,000 annually.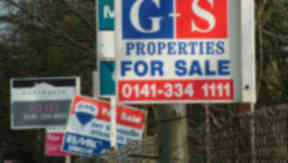 The average house price in Scotland has fallen by more than £6000 in a year, with tough mortgage lending conditions contributing to the decline, according to a report.
December saw the average price paid for a home stand at £140,846, which is £6224 less than in the same month in 2011 - a drop of 4.2%.
It is also the sixth consecutive monthly fall, with prices down more than £1000 from November.
Homes in Edinburgh experienced some of the sharpest declines as values fell almost £17,000 annually. However, the capital remains the most expensive area, with the average property costing £200,981.
East Renfrewshire is now the second most expensive place to buy a home, with the average cost standing at £199,642. Just nine of the country's 32 local authority areas recorded an increase, the latest LSL/Acad Scotland House Price Index shows. Aberdeenshire, East Renfrewshire and the city of Aberdeen all saw price rises from December 2011, along with Argyll and Bute, Angus, Moray, Orkney, Dundee and Inverclyde.
Richard Sexton, director of e.surv chartered surveyors, part of LSL, said: "Tough mortgage lending criteria and public-sector austerity bit the Scottish housing market hard last year, chewing £6000 off the average house price. Values have now fallen for six months on the trot and December alone saw over £1000 knocked clean off the average house prices.
"A lack of first-time buyer loans is the root cause of the Scottish market's ills. Mortgage lenders have married high deposit requirements with strict credit scoring criteria, which are keeping would-be first-time buyers in rented accommodation.
"The comparison with England and Wales doesn't make pretty reading: house prices in Scotland over the year have fallen by more than four times that of any region in England and Wales. Scotland's greater exposure to public-sector cuts is one reason. The other is the Bank of England's Funding for Lending scheme and its lack of impact north of the border.
"The scheme has been far less effective in Scotland, which is making mortgages scarcer and more expensive than in England and Wales."
Experts said house prices in Scotland are falling at a faster rate than in England and Wales, partly because there are more sellers than buyers north of the border, which requires prices to be lower to achieve a sale.
Dr Peter Williams, chairman of Acadametrics, said: "Will house prices continue to decline in Scotland in 2013? There are some signs to suggest that the opposite may happen, and that demand for properties may increase over the year. The Funding for Lending Scheme introduced by the Bank of England has led to more competitively priced mortgage products becoming available, with restrictions on mortgage requirements being eased.
"This should result in improved mortgage volumes and hence an increase in demand. Favourable employment statistics and an upturn in first-time buyer activity also point to more confidence among both lenders and buyers.
"This may tempt more buyers back into the market and lift the level of transactions. Only time will tell, but with new housing supply remaining so low, prices will be underpinned by shortages, except in those areas where low demand and over-supply remains."