Horsemeat scandal: Retailers told to source produce from Scotland
A further round of national food testing is due to be completed in the next few days.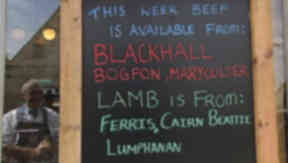 Retailers could avoid selling mislabelled horsemeat by sourcing their produce from Scotland, the Rural Affairs Secretary has said.
Richard Lochhead said there is "absolutely no evidence" to suggest that the horse meat scandal is an issue in Scotland.
He has urged retailers to review their purchasing practices, and source their meat and meat products locally.
Speaking ahead of a further meeting with retailers, processors and the UK Government in London on Monday, Mr Lochhead has urged them to take action as investigations into the current horse meat issue continue.
"Recent events across Europe are completely unacceptable," he said.
"Consumers need to be confident that food is what it says on the label and I have spoken to major retailers this week to urge them to reconsider their sourcing policies."
Mr Lochhead said the response from retailers over the issue was "very frustrating" and has raised "serious questions" about the food supply chain.
He said: "Of course testing is the priority, but it is also the very least they should be doing. They must also be reflecting on their sourcing and purchasing policies. It is deeply concerning if not.
"They simply must consider how to shorten their supply chains as well and source more of their product locally. And the food sector in Scotland must be ready and have assurances in place to help retailers to do this."
The minister's comments come days after local authority inspections found no traces of horsemeat in food supplied to Scottish schools, prisons and hospitals. Further tests are expected to be completed within the next few days.
Meanwhile, a former manager at the Meat Hygiene Service has claimed that the UK Government was warned of horsemeat illegally entering the food chain in 2011.
John Young told the Sunday Times that a letter about the issue sent to the Department for Environment, Food and Rural Affairs in April of that year had been "ignored".