'First class response' to winter traffic chaos
Transport Minister Stewart Stevenson has blamed unexpectedly heavy snow for the major road problems that forced drivers to sleep in their cars on major routes.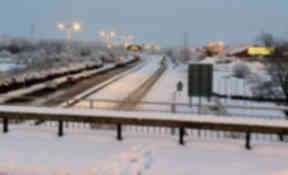 Transport Minister Stewart Stevenson has insisted there has been a "first class response" to the winter traffic chaos that has gripped Scotland.
Hundreds of drivers were last night forced to spend the night in their cars after snow and ice brought major routes in the central belt to a halt.
But Mr Stevenson, who said the country was in the grip of the "worst snow and ice conditions since the 1960s", said the extent of the shocking weather had not been predicted.
He told Newsnight Scotland: "These motorists have shown immense patience, I absolutely accept that, they've been sitting in queues delayed for far too long.
"But a key part of that was an unforecast snowfall at peak time which meant that, of course, that the very people that are stuck there are the ones who, through no fault whatsoever of their own, have created the difficulty getting to the points where jack-knifed lorries have been blocking roads.
"I think we've now managed to get the equipment in place to resolve the problems."
SNOW CHAOS IN DETAIL 
PICTURES
FROM STV LOCAL