How to cope with the black ice menace
With temperatures across Scotland plunging after heavy snowfall, here are some top tips for drivers and pedestrians to cope with black ice on the roads and pavements.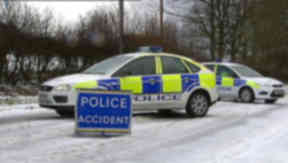 As severe weather warnings are issued for black ice, drivers and pedestrians have been put on red alert.
The unexpected levels of snowfall to hit Scotland have seen gritters struggling to cope.
And as temperatures continue to plunge, the snow has frozen up in many areas, leading to large stretches of black ice.
Motorists are at risk because they are often unable to spot the dangerous "invisible" patches before finding themselves skidding and sliding.
And pedestrians and cyclists aren't immune to the dangers either, as anyone who has fallen on a seemingly safe pavement in the winter can tell you.
Here are a few tips for drivers to cope with the black ice:
Watch for the clues that can warn you of black ice before you set off, like clear ice on your windscreen.
Watch for changes in the appearance of the road surface. If it looks shiny, or darker or lighter, that could mean icy patches.
If you spot black ice, don't brake, accelerate or turn your steering wheel. Just drive as straight as you can across the ice.
Make sure you drive smoothly and gently. Any abrupt or jerky movements with the controls will immediately make the car begin to skid or slide.
And here are some tips for pedestrians:
Wear appropriate footwear. Hillwalking or heavy boots offer the best grip on ice and could save you from a tumble.
Take your time and take smaller steps than normal. Pay close attentions to the ground as you're walking. Don't get ahead of yourself.
Powdery snow might end up being safer underfoot than apparently clear, or "black" pavements. Take care when putting down your first step.
When you can't walk on pavements and have to walk on the road, stay as close to the curb as possible and stay alert to traffic. Remember cars are at risk of swerving towards you.
Wear bright clothing if you are walking, particularly when it gets dark so motorists can see you.
SNOW CHAOS IN DETAIL 
PICTURES